Department of Comprehensive Care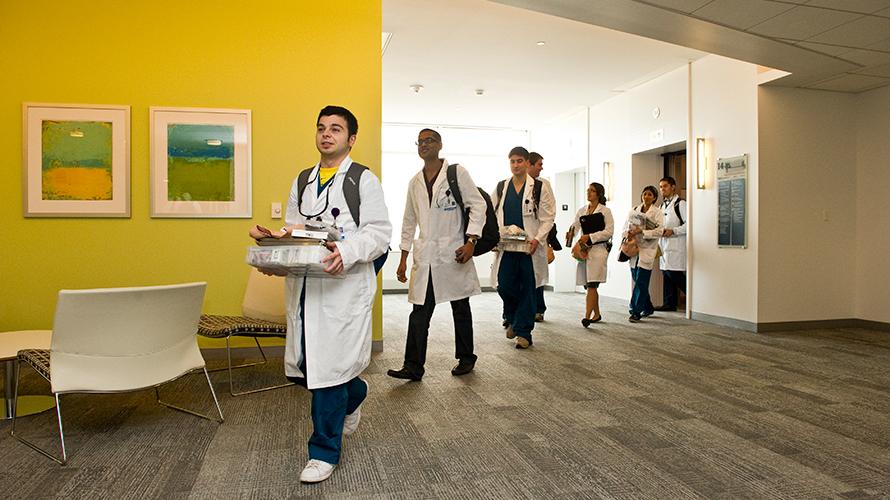 The Department of Comprehensive Care's mission is to educate dental students with the best available evidence and technology to achieve and maintain optimal patient oral health, comfort, function, and esthetics through risk-based diagnosis, prevention, tooth-preserving management of caries and non-carious diseases, and disorders of the oral cavity, considering the patient's overall health in an integrated health environment.
To achieve this goal, the department has been organized into divisions each providing the building blocks required to transform the student into a true dental professional capable of delivering high-quality, ethical, and caring dentistry. In addition, we try to foster the civic engagement and leadership skills that will be the foundation of our students' careers.
Divisions
Diagnosis & Treatment Planning
Lead Practice Coordinators: Alan Epstein, Alex Miele, and David Paul
The Division of Oral Diagnosis and Treatment Planning is based on the Group Practice model. The Comprehensive Care Clinic is divided into six group practices, each shared by three Practice Coordinators, who are responsible for approximately 40 third-year and 40 fourth-year students. The Practice Coordinators are responsible for developing the overall treatment plan for the patient, monitoring the student's progress toward graduation, and providing direct patient care as needed. The Practice Coordinator instructs, evaluates, and advises predoctoral students regarding comprehensive patient care and is responsible for chairside instruction in diagnosis and treatment planning. The Practice Coordinator leads the practice in achieving optimal efficiency and productivity.
Emergency
Division Head: David Leader
Third- and fourth-year students are assigned to the emergency clinic rotation where they treat patients who have acute pain, swelling, and urgent dental needs. Tufts University School of Dental Medicine has a walk-in Emergency Dental Clinic that sees patients on a first-come, first-served basis. The Emergency Clinic reserves the right to prioritize the order in which patients are admitted in certain situations.
Interprofessional Education
Division Head: Maria C. Dolce
Interprofessional Education (IPE) is an important pedagogical approach for preparing students to provide patient care in a collaborative team environment. The premise of IPE is that once healthcare professionals begin to work together in a collaborative manner, patient care will improve. Future dental practice models will increasingly rely upon dentists to function more integrally as part of a healthcare team, addressing and measuring oral health in the context of overall health and systemic disease management.
At Tufts we are committed to providing future dental practitioners with the knowledge and skills needed to provide person-centered care and to collaborate effectively with other members of the healthcare team. We are partnering with other health professions training programs (including medicine, physician assistant, pharmacy, pediatric medicine, and others) to design and implement educational experiences that foster effective interdisciplinary teamwork, communication, and shared responsibility for the patient's oral and overall health. By understanding the roles and responsibilities, values, and intersecting scope of practice of other healthcare disciplines, dental students will become better able to comprehensively assess, treat, and refer patients in ways that enhance collaboration and effectively meet the healthcare needs of diverse patient populations.
Division of Medically Complex Patient Management
Interim Director: Gulsun Gul
The Division of Medically Complex Patient Management is actively involved in the didactic and clinical integration of medicine through all four years of the pre-clinical and clinical years of the predoctoral student education. Our problem-based learning approach constantly emphasizes critical thinking along with clinical application in the patient-care setting. The Year-1 Integrated Curriculum, IDP-2, IDP-3, Medically Complex Patientcare I & II are the didactic courses.
The Division also operates a five-days per week, Medically Complex Patient (MCP) clinic that encounters and oversees the care of majority of the severely ASA II/ASA III medically complex patients seeking care in the predoctoral clinics along with all patients receiving grant funding (Ryan White HIV/AIDS, Domestic Violence/DOTS and the SUPPORT grants) generated by the Division of Medicine. One-on-one consultation and supervision are provided by the Division's faculty members which also includes daily medical consults for predoctoral students assigned medically complex patients.
At the postgraduate level, the Division provides support to the post-doctoral program through the PG Year-1 course for residents and medical consults for medically complex patients encountered in the postdoctoral setting. Additionally, PGY1 and PGY2 oral medicine residents rotate year-round, twice per week, learning and incorporating medicine-related education, skills becoming independent thinkers practicing oral medicine.
The goal of the Division of medicine is to empower dental providers to feel competent and be actively engaged in the understanding of their medically complex patients. This will enable our providers to have a robust discussion with the patient's medical provider(s) to achieve optimal outcomes during patient care in the dental setting.
Operative Dentistry
Division Head: Peter Arsenault
Operative Dentistry is one of the branches of dentistry that deals with the art and science of the diagnosis, prevention, treatment, and prognosis of diseases or trauma to teeth. Operative Dentistry is indicated primarily for dental caries, malformed, discolored or fractured teeth and replacement or repair of existing restorations. Treatment should restore proper tooth morphology, function, esthetics and harmonious relationship with the surrounding tissues.
The mission of the Division of Operative Dentistry is to support the academic goals of the institution through teaching, patient care, and research. Our primary goal is to complement the preclinical operative experience of our students and provide high quality didactic and clinical instruction to undergraduate students in the discipline of contemporary Operative Dentistry.
Oral Health Promotion and Nutrition
The primary goal of the Division of Oral Health Promotion and Nutrition is to emphasize the critical link between nutrition, oral health, and overall oral health by educating future dental practitioners who will be leaders in oral health promotion and disease prevention for their patients, the community, and the profession. This includes effectively communicating the value of oral self-care, providing appropriate clinical care, and providing guidance in oral self-care (including relevant nutritional considerations) as routine components of clinical patient care. Students also learn to advocate for oral health promotion in a variety of non-clinical settings, e.g. the community, government, etc.
The Division is also a leader in developing models for implementing meaningful dietary guidance in clinical dental settings and in promoting interdisciplinary training with other healthcare professionals. The Division also serves as a resource in nutrition and oral health promotion for dental and other healthcare professionals, as well as the public.