Advanced General Dentistry Clinic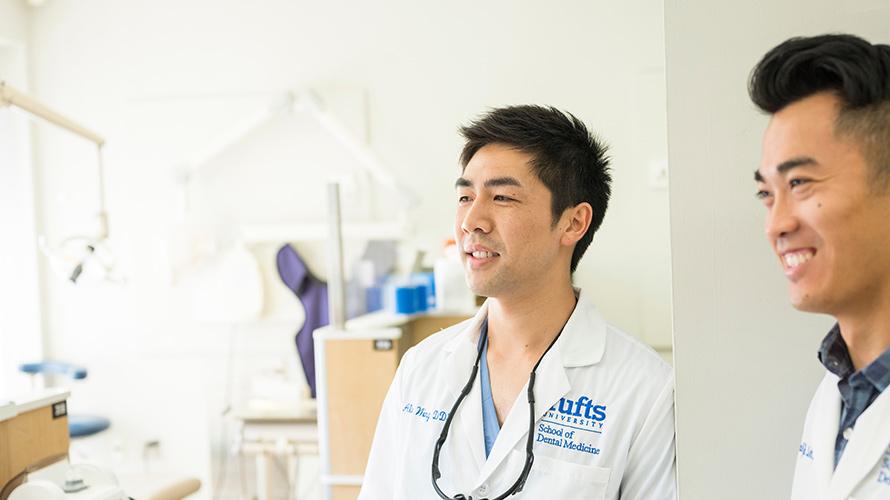 The Advanced General Dentistry (AGD) Clinic provides complex dental treatments with expertise in meeting the needs of all patients, including those with advanced medical problems and intellectual disabilities with special needs. The AGD Clinic is staffed by postdoctoral dental residents in the General Practice Residency and Advanced Education in General Dentistry programs.
New Patients
Your first visit will last about 60 minutes. Please check in on the 3rd floor at the front desk before your appointment. If you must change or cancel your appointment, please call 617-636-4067 at least 24 hours in advance. If you do not come to your first appointment, we will not be able to see you as a patient.
Please arrive 15 minutes early to your first appointment to allow time for the registration process and please bring the following:
​Dental insurance card and photo identification – We accept Mass Health, Delta Dental, Blue Cross Blue Shield of Massachusetts & Rhode Island, and Cigna. If you have other dental insurance, we will provide you with payment documentation so that you can file your dental claim.
Payment or co-payment by cash, check, or MasterCard, Visa, or Discover credit or debit card is due at the time of service. We also offer payment plans for qualified patients.
Current dental X-rays (if available)
List of your current medications and dosages and any important information about their medical history
Your primary care physician's name, address, and phone number
Emergency contact's name and phone number
At the first appointment, you will receive a comprehensive dental evaluation by a graduate student dentist. If needed, we also will clean your teeth and take X-rays (current X-rays are necessary for an accurate diagnostic evaluation). Information collected will be reviewed and at your next appointment we will present you with a recommended treatment plan.
Services
The AGD Clinic offers comprehensive dental care including:
Routine dental exams
Dental cleanings
Fillings
Crowns
Bridges
Root canals
Gum surgery
Dentures
Dental implant restorations
Advanced dental rehabilitations
Consultants to dental specialty services (braces, temporo-mandibular dysfunction [TMD])
Other special services include prostheses for patients with atrophic jaw bones and prosthetic reconstruction of patients missing segments of the jaws secondary to cancer surgery, trauma, or congenital defects.