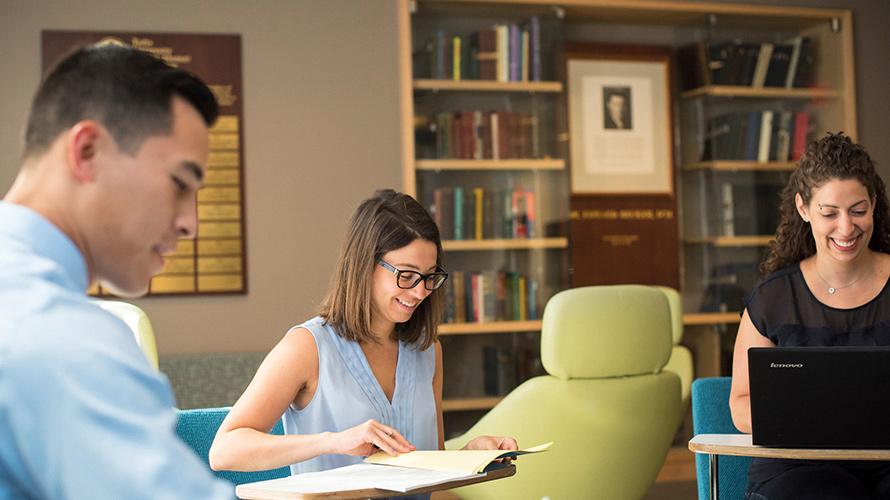 Students enrolled in the DMD, the Dental International Student Program, and accredited post-graduate programs at Tufts University School of Dental Medicine can access a wide variety of both federal and institutional financial aid. Both merit and needs-based grants are available to those students who qualify. The majority of funding available for students consists of student loans. These include both federal and institutional loans. Foreign students can apply for private education loans provided they have a qualified co-signer for the loan.
Before applying for financial assistance, students and their families are expected to maximize use of their own resources. Financial aid should supplement a family's maximum financial effort. Students are encouraged to research outside scholarship assistance. There are several free scholarship search websites available on the internet. State and local dental societies also may provide financial assistance in the form of a scholarship, grant or low-interest loan. However, in the absence of financial assistance from the student's own resources, qualified students can usually receive financial assistance, mostly in the form of student loans, to cover their entire cost of education to include tuition, fees, books, supplies, and living expenses.
The links below will assist you in understanding the available financial aid programs at TUSDM, financial aid application requirements and the student loan application process. If you are unable to find the information you are looking for from one of the links below, please feel free to contact office.
Determining Eligibility and Types of Loans
Financial Aid Application Forms & Cost of Attendance
Student Loan Materials and Financial Literacy
Financial Aid Award Notice (see below)
Financial Aid Award Notice
Once the student has reviewed their financial aid award notice and made any required updates to the loan amounts, they must submit the signed award notice through the secure box portal below. The award notice must be signed prior to submitting it.  Written or electronic signatures will be accepted but typed or font signatures will not be permitted.  Post-graduate students are required to submit their completed loan disbursement worksheets (LDW), also through the portal.
If the award notice was received via email, print out the email, initial any changes, sign it with written (inked) signature, scan it, and return to the Financial Aid Office by uploading it to the secure portal link below. If a printer or scanner is not accessible, open the email window containing the award letter, go to "File", "Print", select "Print to PDF," and then select "Print".  A prompt will follow to identify a document name and where PDF should be saved. Once document has been named (see below for proper naming configuration), click Save. The email is then saved as a PDF document to which any appropriate adjustments (initial any changes) can be added along with an electronic signature. Upload the saved document using the secure portal link below.
Regardless of chosen method to complete the award letter, when saving the document, please NAME IT USING the following configuration:
LAST NAME, FIRST NAME, PROGRAM, AND YEAR OF GRADUATION Award Notice
For instance, a D27 student should name their document: Last Name, First Name D27 Award Notice. A first-year Endodontics student should name their document: Last Name, First Name EN25 Award Notice. Loan Disbursement Worksheets (Post-Graduates only) can be submitted using a similar configuration with LDW at the end. This helps the Financial Aid Office direct your award notice to the appropriate staff member for processing.
Click this link through the secure Box portal to Submit your Award Letter electronically to the Financial Aid Office.
Tufts University has always been committed to the highest standards of professional conduct and ethical behavior. We recognize that ensuring the integrity of the student financial aid process is critical to providing fair and affordable access to higher education. With the Reauthorization of the Higher Education Act of 1965, Congress has required that all colleges post a Code of Conduct relating to financial aid, private lending and student choice. Accordingly, the institution's officers, employees and/or agents with responsibilities with respect to such loans shall adhere to the following sound practices.

I. University employees do not receive any personal benefits from Lending Institutions
No member of the Office of Financial Aid staff will accept anything of more than nominal value on his or her behalf or on behalf of another person or entity from any Lending Institution. For example, cash, stocks, gifts, entertainment, expense-paid trips, etc. will never be accepted from a Lending Institution. Likewise, an individual will never accept payment or reimbursement from a Lending Institution for lodging, meals or travel to conferences or training seminars.
II. The University does not provide any advantage to a Lending Institution
The staff in the Office of Financial Aid does not accept anything of value from any Lending Institution in exchange for any advantage or consideration provided to the Lending Institution related to its student loan activities, including but not limited to revenue-sharing, printing costs or below-cost computer hardware or software. Likewise, the University does not allow any Lending Institution to staff the Office of Financial Aid at any time.
III. The University makes appropriate use of any Preferred Lender Lists
Tufts University School of Dental Medicine provides a list of lending options for foreign students who wish to borrow private/alternative education loans. The list is not exhaustive. The selection of Lending Institutions for inclusion on the private/alternative loans list is based solely on whether or not the Lending Institutions allow foreign students to apply to their program although US Citizens and Permanent Residents can select to apply for private/alternative loans as opposed to federal student loans. We abide by the following:

Students are free to select the Lending Institution of their choice for private/alternative loans.
Students may borrow through any lender they choose for a private/alternative loan.
The University does not assign a borrower's loan to a particular lender and will certify all loans based on a borrower's selection of a lender for a private/alternative loan.

IV. University employees do not serve on lender advisory boards for remuneration
No officer, trustee or employee of the University who makes financial aid decisions for the University or who is employed in, supervises or otherwise has responsibility or authority over the Office of Financial Aid will receive any remuneration for serving as a member or participant on a student loan advisory board of a Lending Institution, or receive any reimbursement of expenses for such service.