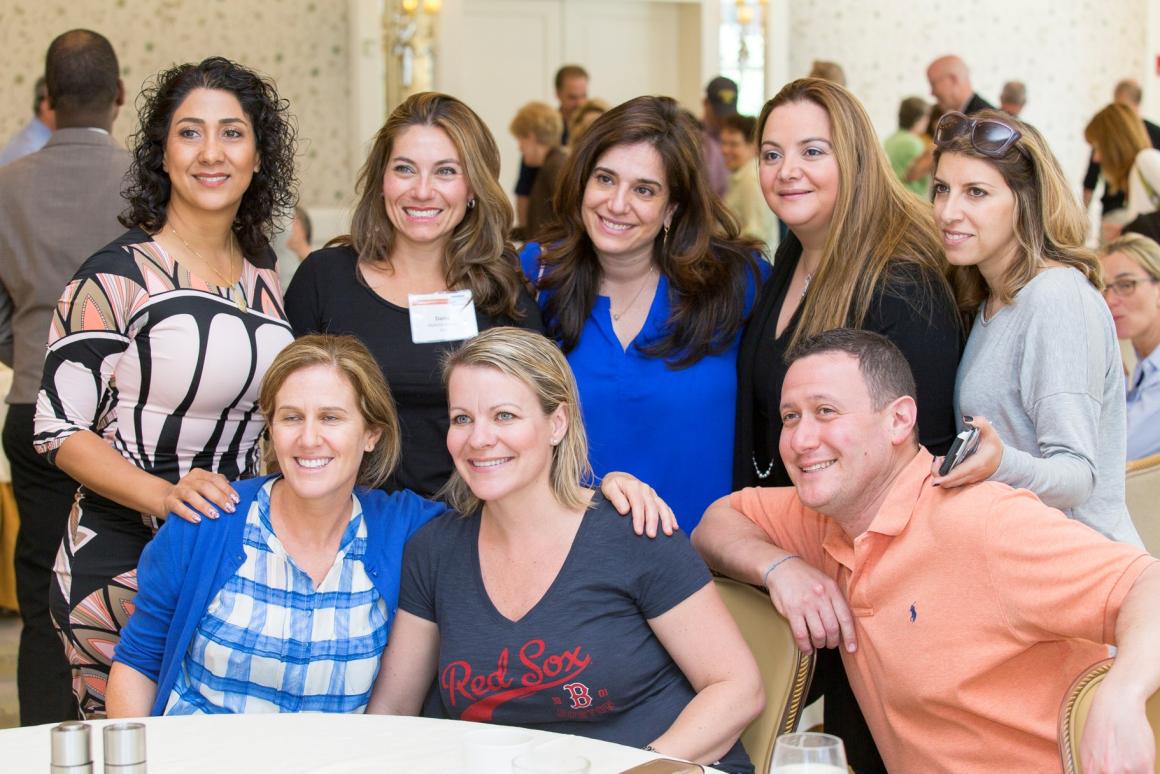 Reunion Weekend 2022: April 29 - May 1, 2022
We are so excited to have the opportunity to gather in-person once again and celebrate your important milestones at the Four Seasons Hotel in Boston. The Tufts University Dental Alumni Association (TUDAA) Board of Directors and the TUSDM Office of Development and Alumni Engagement have planned an exciting schedule of events for the weekend. We hope that you can join us!
Please Note: we will be following all state and local guidelines regarding COVID-19. The City of Boston's indoor masking mandate has been lifted. Public transportation, health care settings, and congregant care settings are still subject to state and federal mask orders. The City's proof of vaccination policy has been lifted. You can check the B Together website for the latest updates on the policy.
While the university strives to mitigate the risks of infection and community spread, it is impossible to eliminate these risks entirely, and all event participants must recognize that they assume these risks of their own volition.
We hope that everyone will be understanding and embrace any guidelines in place at the time of your event in the spirit of Tufts' values as a caring community and one that believes strongly in civic responsibility.
Schedule of Events
DATE
EVENT
Friday, April 29, 2022
 
8:00am - 12:00pm

Continuing Education Course: "How to Manage Complex Cases? – A Collaborative Framework Engaging an Interdisciplinary Team"
Gabriela Lagreca, D.D.S., F.A.C.P.; Irina Dragan, D.D.S., D.M.D., M.S.; Marielena Gamboa-Ruiz, D.D.S.
Four Seasons Hotel

1:30*-2:30pm

Fenway Park Tour
*Trolley leaving from Four Seasons Hotel at 1:00 pm

3:00*-3:30pm and 3:30*-4:00pm

Institute of Contemporary Art Self-Guided Group Tours
*Trolley leaving from Four Seasons Hotel at 2:30 p.m & 3:00 p.m.

6:00-9:00pm

TUSDM Reunion Welcome Reception
M.J. O'Connor's – Park Plaza (27 Columbus Ave, Boston, MA 02116)

Saturday, April 30, 2022
 
8:00-9:00am

Yoga Class with Christina DiBona Pastan, D91, DG92, DG94
Four Seasons Hotel

8:00-9:30am

Continuing Education Course: "Impress Your Patients and Put "The Bite" Back in Your Denture Cases!"
William Lobel, D72, D.M.D.
Four Seasons Hotel

10:00-11:30am

Continuing Education Course: "Pharmacologic Management of Acute Dental Pain and the Prescription Opioid Epidemic"
Richard S. Harold, BS (pharmacy), DMD, JD, D80, A00P, D06P
Four Seasons Hotel

12:00-2:00pm

Dental Alumni Association Annual Luncheon Meeting
Four Seasons Hotel

6:00pm-1:00am

Reunion Cocktail Reception, Class Dinners & After Party
Class photographs taken during reception
Four Seasons Hotel

Sunday, May 1, 2022
 
9:00-11:00am

Dean's Farewell Brunch Reception
Four Seasons Hotel
Stay up to date on the latest TUSDM Reunion 2022 news by updating your email with us!
We look forward to seeing you! Register now!
Traveling from out of town?
All Reunion Events (unless otherwise specified) will take place at the Four Seasons Hotel, 200 Boylston St, Boston, MA.
Book your accommodations at the Four Seasons at the discounted rate of $426++ per night! Call 617-338-4400 and mention the Tufts Dental Room Block or book online using promo code CI0422TD!
Class Giving
Check out your class giving and participation progress at the All Reunion Class Giving report here!
Questions or concerns? Contact a member of the alumni office:
Reunion Class Co-Chair Volunteers and Class Giving
Marianne Blaney, Senior Associate Director of Development
marianne.blaney@tufts.edu
617-636-3434
Gift Transactions, Contact Information Updates
Kim Regan, Administrative Coordinator
kimberly.regan@tufts.edu
617-636-3609
Events and Programming
Bridget Kent, Associate Director of Alumni Engagement
bridget.kent@tufts.edu
617-636-6772
Registration, Hotel Information, Attendee List
Kaitlin Maloney, Alumni Engagement Coordinator
kaitlin.maloney@tufts.edu
617-636-6773
dental-alumni@tufts.edu
617-636-6772