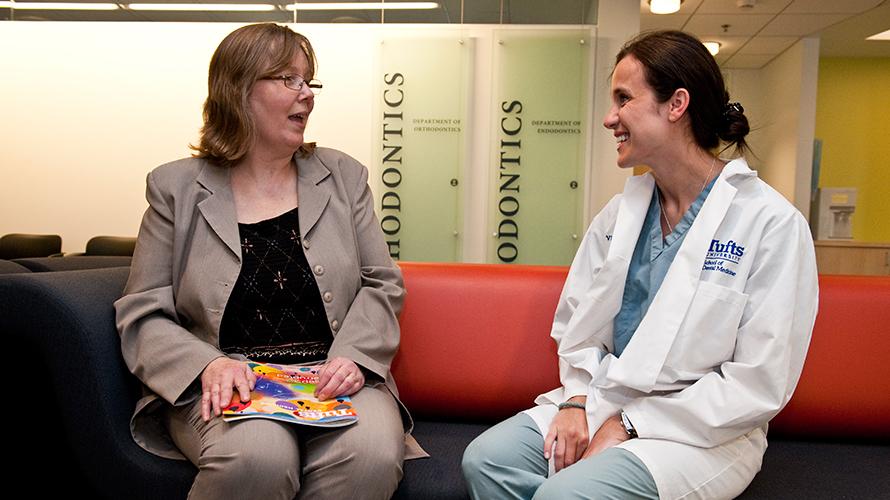 The Prosthodontics Clinic at Tufts Dental School specializes in the complete restoration of your teeth and smile, with a commitment to both functionality and appearance.
Services
We always take into account your unique needs in terms of both functionality and appearance to create the healthiest and most natural appearance possible.
Veneers, implants, crowns and bridges
Complete and partial dentures
Partial and full mouth restorations
Comprehensive treatment for complex cases
Patients with a Referral
New patients should call 617-636-6888 to set up an appointment. Your first appointment will include a screening and consultation to discuss how we can meet your needs. The fee for this screening is $91 (X-rays are an additional fee if required). Any subsequent costs and procedures will be discussed after your initial visit. 
Insurance and Financing
We accept the following insurance: Delta Dental, Blue Cross Blue Shield, Cigna, and MassHealth. We also offer payment plans. After your initial visit, we can provide you with detailed financing and insurance information.
Why choose Prosthodontics at Tufts?
Reduced fees—Our prices are significantly lower than private prosthodontists.
Comprehensive care—We have the ability to handle the most complex cases as well as hygiene appointments in the same building.
Multiple insurance plans accepted—We accept a variety of dental insurance plans. Please call 617-636-6888 to confirm that we accept your specific insurance.
State-of-the-art facility and equipment
Convenient location in downtown Boston—Discounted parking, T, and bus are across the street. Directions