Oral and Maxillofacial Surgery Clinic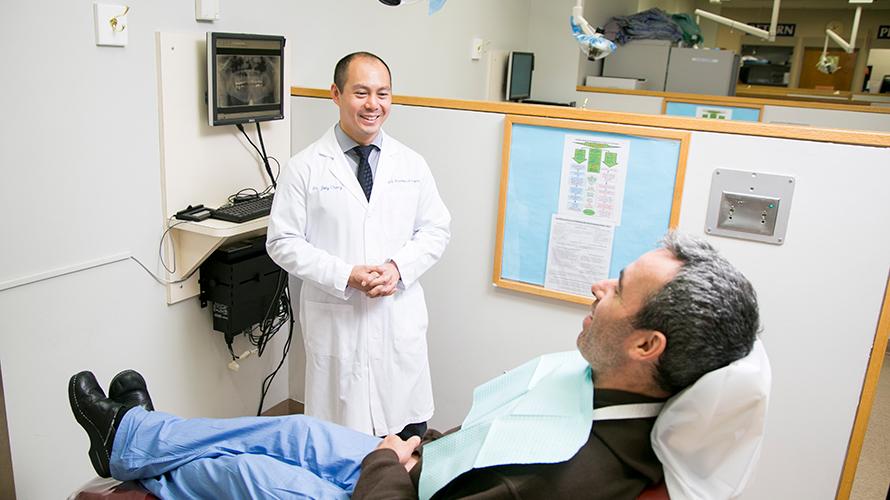 The Oral and Maxillofacial Surgery (OMFS) Clinic is accepting new patients.
At the Oral and Maxillofacial Surgery (OMFS) Clinic your care is provided by dental students or highly skilled residents and is always overseen by faculty specialists, who are all leaders in the field. Your participation in this invaluable learning process means that appointments may take longer, but we are able to offer exceptional services at significantly lower rates than private practices.
Appointments
If you are a patient seeking care in our teaching clinic, please call 617-636-6516 to schedule an appointment. All patients require an initial consultation and X-rays if needed.
Insurance
OMFS procedures are often complicated and may be billed through dental and/or medical insurance. Please call us to verify your insurance. All additional billing and insurance questions will be answered after the initial consultation. The OMFS Teaching Clinic accepts the following dental insurances: Delta Dental, MassHealth, Blue Cross Blue Shield and Cigna, but it does not accept medical insurance. 
If your case requires medical insurance, consider an OMFS Faculty Provider and call 617-636-6515.
Referring Doctors
Referring doctors are encouraged to call us at 617-636-6516 to refer a patient to the OMFS Teaching Clinic. For more complex cases, please consider referring to our Faculty Practice by calling 617-636-6515.
OMFS Teaching Clinic Services
Tooth extractions
Wisdom teeth removal
Implant surgery
Soft tissue and bone biopsies
Treatment of pathology of the jaws and oral cavity
Treatment of trauma to the teeth and jaws
Temporomandibular joint and muscle disorders (TMJ)
Outpatient general anesthesia and IV Sedation
OMFS Faculty Practice Services
The Oral Surgery Providers in the Faculty Practice provides the same services as the Teaching Clinic and much more.
Dentoalveolar procedures (including atraumatic extractions, removal of impacted teeth, exposure of impacted teeth, pre-prosthetic surgery)
Outpatient general anesthesia and IV sedation
Implant surgery covering all levels of complexity.
Bone grafting and reconstruction of bony defects
Facial cosmetic surgery (including blepharoplasty, dermal fillers, botox, chemical peels and neuromodulators)
Evaluation and treatment of pathologic lesions of the jaw and the oral cavity
Maxillofacial reconstructive and orthognathic surgery
Surgery for ultimate management of obstructive sleep apnea (OSA)
Primary cleft lip and palate repair
Traumatic injuries to the teeth and jaws
TMJ surgery including minimally invasive procedures such as arthroscopy and arthrocentesis (Surgical Interventions only. For TMJ evaluations contact the Craniofacial Pain Center.)
Collaboration among experts in other dental specialties (implant dentistry, prosthodontics, orthodontics) and medical specialties.
For the OMFS Faculty Practice, please call 617-636-6515.