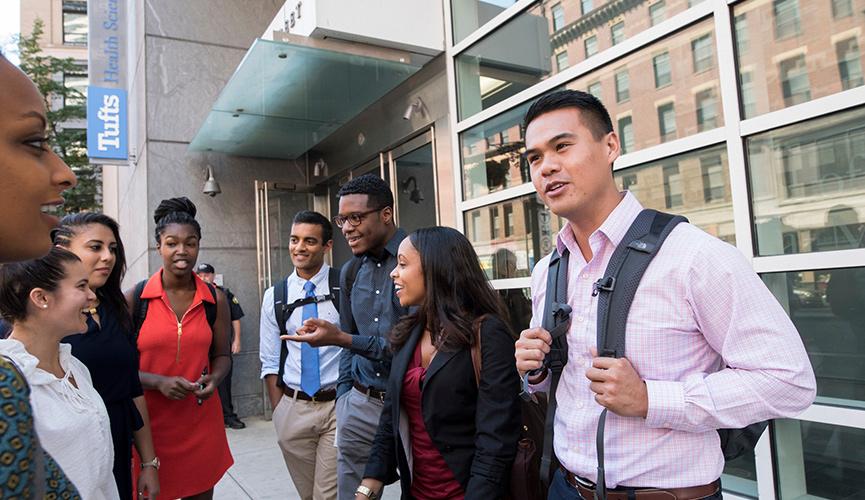 TUSDM not only aims to provide a world class dental education, but to help students maintain a well-balanced and fulfilling life while completing their education.
Dental Central
The purpose of Dental Central is to foster civic engagement, enhance community service and strengthen cultural awareness at Tufts University School of Dental Medicine. Dental Central serves as a hub for students and their organizations to post upcoming community and cultural events, both here and abroad, and to encourage participation in these activities.
Career Services
TUSDM Career Services aims to educate and prepare its students and alumni for the dental profession. The office also interacts with alumni and employers to provide career opportunities and information to current students.
Diversity
Tufts University School of Dental Medicine embraces diversity in all of its dimensions. We strive to provide a fair, welcoming environment with cultural sensitivity.
Commencement and Ceremonies
Each year, TUSDM welcomes family and friends for white coat ceremonies, DMD and Postgraduate commencement ceremonies, graduation dinners and lunches and more. Learn more about these events and find photos from previous ceremonies.
Current Student Resources
Fine a collection of resources for our current students including calendars, handbooks and links to student services resources.
Health and Wellness
The culture of health and wellness at TUSDM is so strong that it is integrated into the curriculum. Tufts students are actively encouraged to seek a balanced life during their time and Tufts to prepare them for the dental profession.