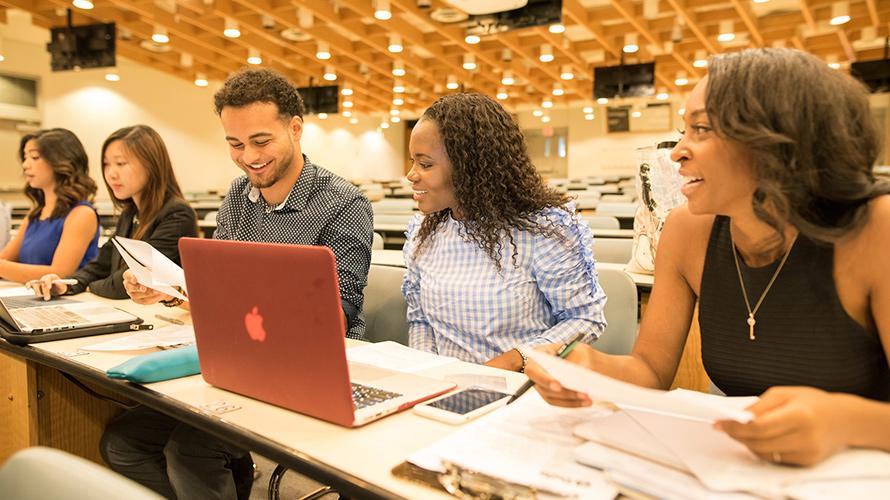 Tufts University School of Dental Medicine (TUSDM) strives to create and maintain a climate that recognizes differences and commonalities, while understanding and engaging in intentional experiences that nurture acceptance of diverse ideological viewpoints, socio-economic status, racial/ethnic makeup, religious beliefs, sexual orientation, and equity. We are committed to educating and training more dentists who embody the fabric of our nation, not only to address disparities in healthcare, but also to improve the overall health of all people. At TUSDM, we have an ongoing commitment to increase faculty and staff awareness and understanding of issues of diversity and inclusion through professional development programs.
Our most recent entering classes are among the most diverse dental school classes in the country. TUSDM is one of the top three dental schools in the United States for enrollment of African-American/Black and Hispanic/Latinx students, including the Historically Black Colleges and Universities (HBCUs) of Howard University and Meharry Medical College. Since the 2013–2014 cycle, we have had a stunning increase in our applicant pool of students of African descent, nearly 130 percent. Twenty-eight percent of our most recent class identifies as Black/African American or Hispanic, nearly 32 percent identify as Asian, and 56 percent of the class is female. Over 70 students in our most recent entering class are from economically disadvantaged backgrounds.
TUSDM has a number of formal, established student organizations that reflect the diversity of our student body. Most organizations have both cultural and philanthropic components to them. These student groups serve to provide positive support to each other and to increase others' knowledge of cultures not their own. Our walls embrace students whose religious beliefs vary from agnosticism to Zoroastrianism. To promote dentistry as a career for students underrepresented in the profession, the School has ongoing initiatives and partnerships that allow unique opportunities to explore careers, including those of dentist, dental hygienist, dental assistant, or dental lab technician. Our partnership with Increasing Diversity in Dentistry (IDID) Pipeline program offers such.
To enhance our students' and faculty members' ability to provide comprehensive care to diverse patient populations, a number of outreach and Global Service Learning opportunities are coordinated. With the goal of promoting oral health and increasing access to care for under-served populations in the Greater Boston area, as well as in developing countries, our students and faculty have traveled worldwide, including Haiti, the Dominican Republic, Nicaragua, Peru, Rwanda, and Zambia.