Pediatric Dentistry Clinic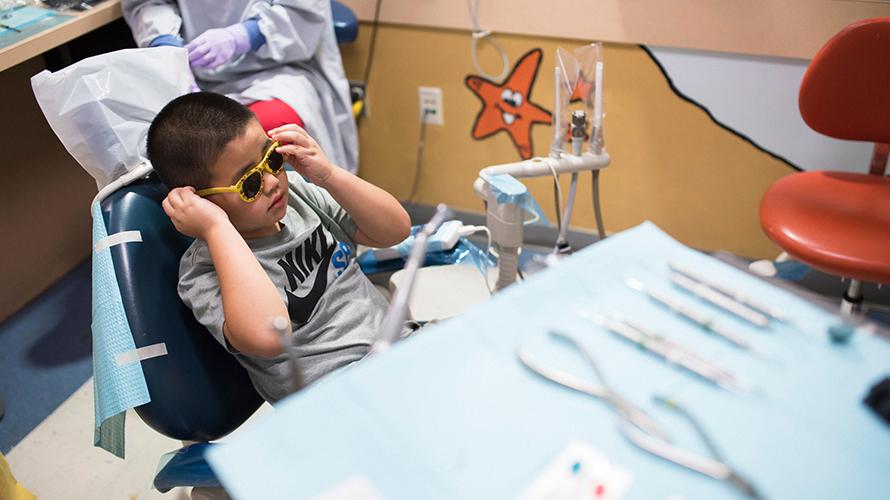 The Pediatric Dentistry Clinic is Accepting New Patients.
At the Tufts Pediatric Dentistry Clinic our teams of specialists provide affordable, comprehensive dental care focused on the unique needs of children from 6 months to 18 years old.
Give Kids a Smile Day: March 25th!
Join us for Give Kids a Smile Day on March 25, 2023, a fun day for kids and families! In addition to FREE chair-side dental screenings for the children, we will be offering oral health education to children, parents and caregivers. You can protect your child's beautiful smile by starting dental checkups early. (Please note that children must be accompanied by a parent or legal guardian.) Open to children ages 0 to 13 years. Registration is required.
Appointments
Parents looking for dental services for their children should call 617-636-6971. The initial visit is a comprehensive initial evaluation with an associated fee. This fee can vary depending on your child's needs (if you have recent, usable X-rays, the fee will be less). We currently accept the following insurance: Delta Dental, Blue Cross Blue Shield, Cigna and MassHealth. Please call 617-636-6971 to verify your insurance.
Infants and Babies
To prevent future dental problems of all kinds, the American Academy of Pediatric Dentistry, American Dental Association, and American Academy of Pediatrics recommend that a baby's first oral exam should be no later than his/her first birthday (6 to 12 months old).
Children and Adolescents
Tufts Pediatric Dental Clinic offers a full range of dental services for children and adolescents (through age 18) including:
Comprehensive oral evaluation and assessments
Teeth cleaning and fluoride treatments
Sealants
Tooth-colored fillings
Space maintainers (to save space for adult teeth)
Athletic mouth guards
Cosmetic dentistry and teeth whitening (for adolescents)
Interceptive orthodontics (braces)
Sedation and general anesthesia for children
Children with Intellectual and Developmental Disabilities
Tufts provides dental services for children with special needs at Tufts Dental Facilities throughout Massachusetts and at the Pediatric Dentistry Clinic in downtown Boston. To visit our main facility in Boston, please call 617-636-6971. For a list of offsite location throughout Massachusetts, visit the TDF Clinic page.
Why choose Tufts for your Kids?
Lower fees than private practices
State-of-the-art technology
Caring people who are committed to improving children's oral health
A colorful and fun atmosphere that appeals to children of all ages
Multicultural clinical staff who speak numerous languages—all children are comfortable at our Pediatric Dental Clinic
The most advanced health and safety protocols
Convenient location in the heart of Downtown Boston