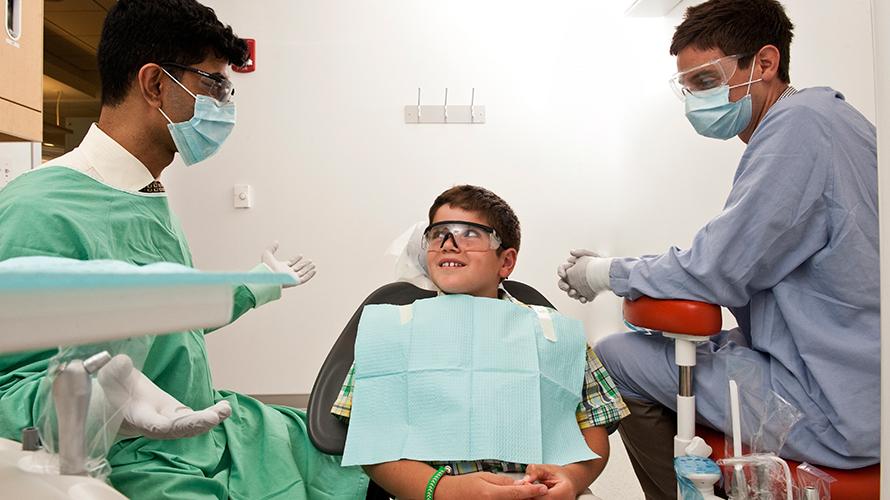 The Orthodontic Clinic is accepting new patients.
The Tufts Orthodontic Clinic offers high-quality orthodontic care for adults and children at affordable rates. Services include early treatment for children, traditional braces for teenagers and adults, clear aligners for adults and the most up-to-date and sophisticated orthodontic procedures, including surgical and implant orthodontics, for patients with complex problems.
Why Tufts Orthodontic Clinic?
Conveniently located in downtown Boston, we're proud to offer expert, affordable orthodontic care for adults and children. We also pride ourselves on serving patients with disabilities and complex needs.
Exceptional customer service and results
Affordable fees
Convenient payment plans
Comprehensive services
What to Expect
First and foremost, you can expect to receive exceptional care. We are teaching facility, so dentists pursuing orthodontic degrees work with experienced orthodontists to provide your care. This means our rates are up to 50 percent less than private orthodontists, but appointments may take longer and we have some unique policies and processes.
Contact Us for a Consultation
New patients can request by calling 617-636-6887 or filling out our online form to schedule a consultation. During this initial consultation, our orthodontic experts will explain more about how our various services and treatment options can meet your needs. If you have had a recent panoramic X-ray taken, please bring it with you.
Please note:
MassHealth only covers orthodontic care for patients under the age of 21 pending prior-approval.
We cannot take transfer cases (patients who already have braces on) from another practice.
Delta Dental of Massachusetts requires prior-approval before starting orthodontic treatment.