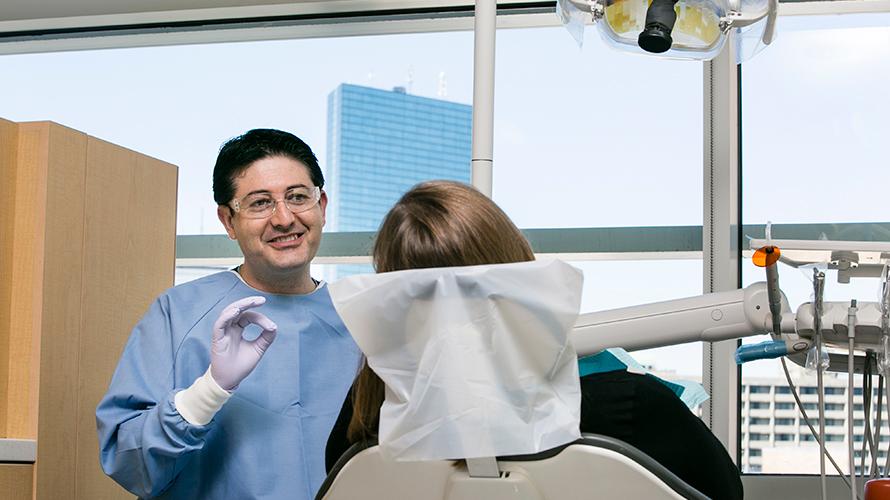 The Periodontal Clinic is accepting new patients.
The Periodontal Clinic at Tufts University School of Dental Medicine provides comprehensive treatment for all oral health issues related to gum and bone tissues.
Sore, bleeding gums
Gum recessions, longer tooth/teeth
Mobile tooth/teeth
Sensitivity (gum and/or tooth)
Short crowns (gummy smile)
Missing tooth/teeth
Why Tufts Perio?
Reduced fees—Our fees are up to 50 percent less than private practice periodontists.
Multiple insurance plans accepted—We accept a variety of dental insurance plans. Please call 617-636-6888 to confirm that we accept your specific insurance.
State-of-the-art facility and equipment
A full range of periodontal services—We are able to offer all of the latest and most sophisticated periodontal treatments. In addition, you can receive hygiene and see other specialists as needed, all in the same building.
Convenient location in Downtown Boston—Discounted parking, T, and bus are across the street. Directions
Become a Patient
If you are interested in receiving care or have a referral from a dentist, please call 617-636-6888 to set up an appointment. All patients require an initial screening with an associated fee of $91 plus the cost of X-rays if needed. Each patient is unique, so detailed treatment plans and associated costs will be explained after your initial consultation.
Treatments
Scaling and root planing (i.e., deep cleaning)
Gum graft surgery
Regenerative procedures (e.g., bone grafting)
Dental crown lengthening
Dental implants
Periodontal pocket reduction
Exposure of tooth/teeth for braces