Additional videos:
Mission Statement
The ultimate goal of dental healthcare providers is professional awareness to the delivery of conscious and compassionate care to their patients. This is achieved through competent clinical and technical skills, as well as sensitive communication skills. The profession of dentistry is known to be stressful and its effects can be detrimental to the dental provider personally and professionally. When stress is not managed properly in the clinical environment it can affect this goal.
The stressors of the dental profession begin with dental students in the first year of their education. Tufts University of Dental Medicine (TUSDM) incorporates the teaching of mind-body evidence-based self-regulation and coping skills in the curriculum. These skills support our students from the start of dental school and throughout the four years of their training. The practices of meditation and yoga cultivate conscious awareness and have been proven to reduce stress. Knowledge of these practices help our students manage the stress they incur from their rigorous academic studies and demanding clinical requirements. We value our students health personally and physically, and our commitment to our wellness curriculum aims to decrease burnout and increase resilience. We believe this will impact them beyond their dental education and serve them as they move on to their personal lives and their commitment to patient care.
– Christina DiBona Pastan, DMD, Assistant Clinical Professor of Endodontics and Director of Mind-Body Wellness, D'91, DG'94.
Wellness Committee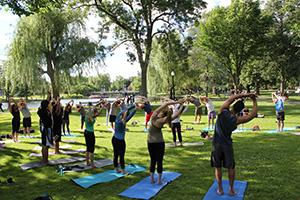 The TUSDM Wellness Committee has dedicated much time into understanding the importance of physical and mental health of the students, faculty, and staff. In an effort to support this understanding, we have integrated health and wellness into the curriculum in numerous ways. In the classroom, first years are introduced to the importance of a balanced school, social, and home schedule. Furthermore, the students are provided with lectures as well as an interactive opportunity to engage in learning the practice of meditation. Having this foundation, students can carry these learned practices throughout their time in the classroom and also upon entering and during clinic. Upon entering clinic, the committee plans to implement a pre-appointment routine, similar to studying before and exam or stretching before a game, that will consist of a quick overall body centering in order to allow the clinic to perform optimally. Understanding the demands of dental school from the perspective of the student, faculty, and staff the practice of weekly meditation and yoga sessions further stresses our commitment at TUSDM to provide a well-rounded, all-encompassing environment for a student to learn and faculty and staff to grow. Overall, integrating health and wellness into the curriculum allows for sustained, healthy growth of the TUSDM community and provides a means for the best patient care possible.
Wellness Committee Mission Statement
The TUSDM Wellness Committee is a passionate group of students, faculty and staff committed to developing an environment of mind-body wellness at Tufts University School of Dental Medicine.
Our committee is dedicated to building and supporting wellness and stress management skills in the dental school curriculum centered on supporting our students throughout their years of training.
This environment of mind-body wellness empowers a healthy, balanced and inspired community of students as well as faculty and staff with resources that promote awareness of one's ell being and of those we serve.
This culture of wellness that was envisioned and deliberately created is a unique and revolutionary asset to dental education as it ultimately impacts the excellent patient care our TUSDM institution provides.
Wellness Resources
TUSDM Mind-Body Wellness Canvas Page
Accessible to TUSDM students, faculty, and staff (password protected), this Canvas page is a collaborative effort of the Wellness Committee student representatives and Dr. Pastan to provide a health and wellness hub for our TUSDM community. On this page you will find a compilation of wellness resources that span mental and physical health, nutrition, inspirational offerings, and music that will be updated on a monthly basis. Access the Health and Wellness Hub here—we hope you will visit soon!
Student Wellness Club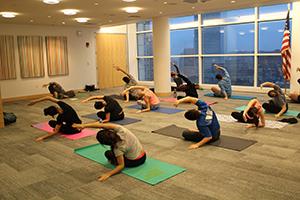 The culture of health and wellness at TUSDM is so strong that it is integrated into the curriculum. Tufts students are actively encouraged to seek a balanced life, a goal that may seem unachievable to dental students around the country. The Health and Wellness Club aims to supplement the school's support by providing TUSDM students with the tools to take better care of themselves and make wellness not just an activity, but a lifestyle.
We organize classes such as spinning, dance, yoga, or bootcamps. We have a Facebook page on which students are welcome to share and communicate any helpful tips they have: whether they found a new juice bar or a discovered free pass to attend class at a local gym. On this page also share wellness-related articles and videos. In February of 2017, we organized the first official Women's Health Awareness Discussion Group, and we hope that it will pave the way for the formation of many other kinds of discussion groups in which students can seek a space to feel safe, understood, and connected to their classmates.
The Health and Wellness Club's positive influence isn't limited to Tufts dental students. We also have an Instagram (@healthydentalstudents), on which one can find pictures of our students working on their school-life balance. Every week we feature pictures that our students share as long as they tag us and use #enamelstrong in the caption. Dr. Pastan, the Director of Mind-Body Wellness at TUSDM, shares recipes, photos, and inspirational messages as well. The purpose of this Instagram is to share with pre-professional students across the country that Tufts is paving the way for a shift in how health is prioritized by dental students. Hopefully, we will inspire them to follow suit.
Talk One2One Student Assistance Program
TalkOne2One is provided by AllOne Health and is available to all matriculated School of Dental Medicine students free of charge. TalkOne2One provides students with confidential access to master's level licensed counselors, either for short term therapy or "in the moment" crisis support. This service is not intended to replace ongoing therapy or psychiatric services but is an additional resource to address short-term mental health counseling needs. TalkOne2One will also help to connect students with longer term mental health care providers if needed.
TalkOne2One is available 24/7 by phone at 1-800-756-3124 or students can also make appointments via email at Tuftscounseling@allonehealth.com.
Additionally, students may also be connected to out of state TalkOne2One counselors if they are home on break or assigned to a non-local clinical externship site.
Student Wellness Advising
The Office of Student Wellness (OSW) provides integrated wellness programs, services, and resources to the Boston Health Sciences students at Tufts University. The Student Wellness team works with all students to offer practical approaches to manage everyday stresses and life challenges. 
OSW provides confidential and private advice for personal challenges and makes referrals for therapy/psychiatric care as needed for students who may need support for depression, anxiety, or other mental health concerns. The Office of Student Wellness offers wellness opportunities that are inclusive and promotes a culture that supports the personal development and academic successes of all students.  These wellness opportunities aim to foster and support the mental, physical, and emotional health of students. Prevention is the cornerstone for maintaining optimal health and is part of OSW's holistic approach to health and wellness. 
The Student Wellness team is made up of a trained and experienced staff that provides advice to students, and designs and implements evidence-based wellness promotion programs to improve overall health, wellness, and academic performance for all health sciences students.
The Office of Student Wellness does not provide ongoing psychotherapy but helps students deal with personal issues by providing support, guidance, advice, advocacy, and referrals.
The services provided are at no additional cost to matriculated students. Consultation is strictly confidential, and no information will be shared without the student's written consent.
The Office of Student Wellness works closely with the consulting psychiatrist, John V. Pruitt, III, MD.
To schedule an appointment (in person, over Zoom, or by phone) with the Office of Student Wellness, email sharon.snaggs@tufts.edu or visit the DIRECT LINK TO BOOK AN APPOINTMENT.
Hours
Monday-Friday: 9:00 a.m. – 5:00 p.m.
 
Location
200 Harrison Avenue
Posner Hall, 3rd Floor (Administrative Side)
Boston, MA  02111
Phone
617-636-2425
Email
studentwellnessadvising@tufts.edu
Instagram
@tuftsstudentwellnessadvising
Privacy Statement 
Student Wellness Advising cares about your holistic health and is committed to working with you to preserve the privacy of your communications with the Wellness Advisor. Information will not be shared or disclosed to other staff or anyone else (without your explicit permission). However, there may be times when information needs to be shared with other staff or healthcare providers. Some examples include serious concern about the health or safety of you or someone else, or when the law requires the release of such information. When possible, every effort will be made to consult with you and secure your permission. The Wellness Advisor believes that transparency and mutual understanding are two critical components of a successful relationship between staff and students. You are encouraged to have a conversation with the wellness advisor about what this privacy statement means for you.
Collegiate Center for Wellness
Tufts Medical Center's Collegiate Center for Wellness (CCW) offers students convenient access to medical care and provides a bridge to further care for individuals with chronic conditions requiring specialized management, on a limited basis. While not intended to replace a primary care provider, the CCW is able address health matters including flu and COVID-19 concerns, as well as counseling and support for reproductive health and a wide range of other medical needs.
To schedule an appointment or inquire about services, call 617-636-6006 and select option #4 for Tufts University. Both in person and telehealth options are available and most appointments are offered same day or within 1 business day.
Location: Floating building 3rd floor, Tufts Medical Center
Hours: Monday-Friday from 9am-5pm
Mantra Health
Tufts University partners with Mantra Health to give you more options for your mental health care through the university. Matriculated Boston Health Sciences students who are in person in their program on the Boston campus will be able to access free psychiatry services for medical prescribing.
By enrolling in Mantra Health, you can connect virtually to licensed psychiatric nurse practitioners and psychiatrists to address your unique needs during daytime, evening, or weekend hours.
To obtain a referral:
There are three ways to get connected to Mantra Health:
Either call a TalkOne2One counselor, 24/7, at 800-756-3124 or email them at tuftscounseling@alloneheatlh.com to request an appointment. They will make a referral for you, if appropriate.
Call Tufts Medical Center's Collegiate Center for Wellness (CCW), which is located on the 3rd floor of the Floating Building at Tufts Medical Center, at 617-636-6006 and select option #4 to schedule an appointment. Their hours are Monday – Friday, 9 AM – 5 PM. A practitioner at the CCW will make a referral for you, if appropriate.
Contact the Boston Health Sciences campus Office of Student Wellness (OSW) by emailing Sharon Snaggs Gendron, Director of Student Wellness, at sharon.snaggs@tufts.edu to obtain a self-referral form for Mantra Health. OSW is located at 200 Harrison Ave, 3rd floor (enter up the ramp); their office is accessible Monday – Friday, 9:30 AM – 5:00 PM.
Your treatment needs will be assessed. If Mantra Health is the right option for you, you will be referred by someone on campus. Once you are referred:
You will receive an email and SMS message to create an account using your Tufts email address.
Complete the onboarding tasks in your Patient Portal, which takes about 10 minutes. Please be sure to do this before your first appointment.
Join your first scheduled appointment with your provider through the Mantra Patient Portal (app.mantrahealth.com).
Already have an account?
If you already signed up or were referred by someone at Tufts University, you can log into your account at mantrahealth.com using your Tufts email address.
Have questions?
We're here to help. Reach out to us at hi@mantrahealth.com or call 800-464-2083.