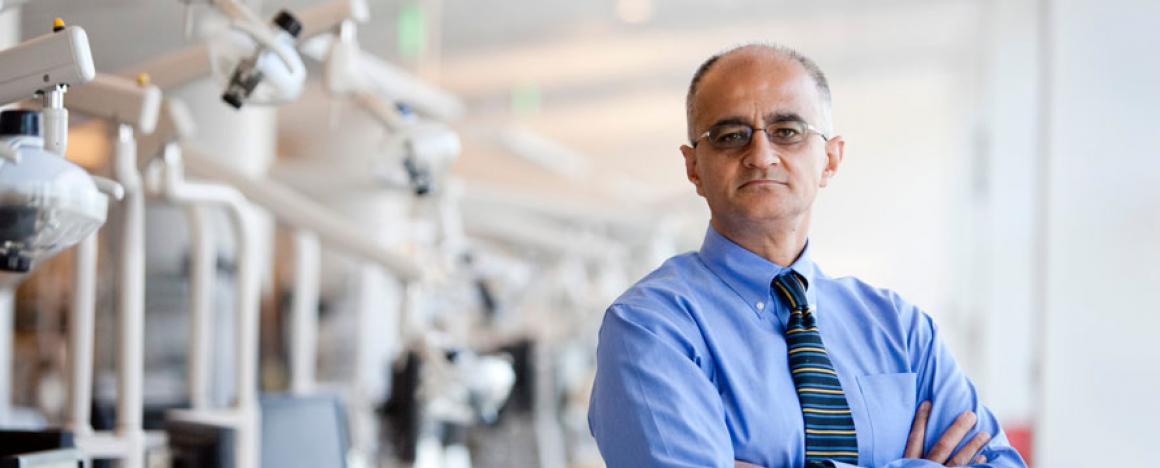 A Welcome Message from Dean Nadeem Karimbux
Greetings and welcome to the Tufts University School of Dental Medicine! As you navigate our website, I hope you will get an appreciation for our Purpose (Global Leaders in Oral Health), our Passion (Education Committed to Clinical Excellence), our People (students, faculty, staff, patients, alumni), and our Place (One Kneeland Street, our state and global alliances).
Tufts University School of Dental Medicine, founded in 1868, is an accredited private dental school. We provide education to diverse predoctoral students and postdoctoral residents to prepare them to practice dentistry in the 21st century with knowledge and understanding of many different patient populations, dental specialties, and varied practice settings. This education occurs in an ethical and professional environment in which quality dental care is provided to our patients.
The dental school presents a dynamic curriculum, which provides excellent clinical training, integrates the health sciences with clinical experience, and utilizes modern technology. Our success is based on maintaining a strong faculty and staff, supported in their commitment to teaching and administration, professional development, scholarship, research, student service, and community service.
Since its beginning, the dental school has played an integral part in the development of novel dental education programs and oral health care services. The school has an outstanding reputation for its clinical teaching programs, exemplified by its graduates. The school's research and community health service programs have impacted oral and general health locally, nationally, and internationally. I am very proud to be a member of the Tufts family.
We are situated in the center of the Boston metropolitan area and have the benefit of a large pool of patients who seek care at our clinics. Additional training in patient care is gained during assignments at affiliated hospitals and at externship sites in various locations throughout the country.
We are committed to excellence in all that we strive to accomplish. If I can be of further assistance, please do not hesitate to contact me at nadeem.karimbux@tufts.edu.