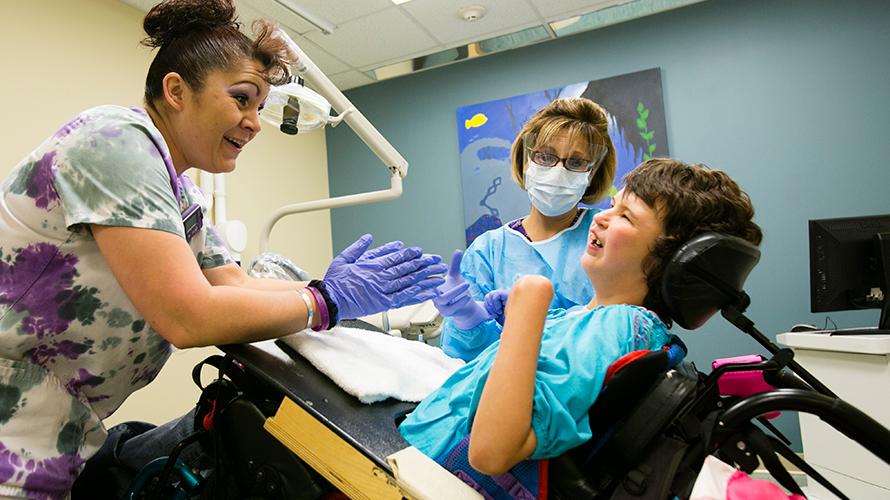 Tufts Dental Facilities (TDF) provides comprehensive dental care for adults and children with developmental disabilities living in Massachusetts. The TDF program began in 1976, as a result of a court order mandating that the Commonwealth expand access to medical and dental care for individuals with special needs. Today, TDF has more than 6,500 patients who are receiving care from oral health providers who have the expertise, experience, and facilities to properly serve patients with special needs.
For Patients and Caregivers
To receive care at Tufts Dental Facilities (TDF), each patient must first meet certain qualifications. Caregivers should contact their nearest facility below. (View a map of our locations.) After calling, our staff will help determine eligibility and verify insurance. Caregivers can also receive information on eligibility from the Massachusetts Department of Developmental Services.
Locations
NOTE: The Glavin and Templeton clinics have closed. Please contact the Worcester or West Springfield clinics for information. Children with special needs can also be seen at Tufts Pediatric Dental Clinic in Boston. 
TDF Clinic
Phone
Fax
Address
Hogan Regional Center (Hathorne)
978-774-5000 x510
978-774-2408
450 Maple St., P.O. Box A
Hathorne, MA 01937
Northwoods Medical Center (Taunton)
508-823-7323
508-823-7932
2007 Bay St. Suite B110
Taunton, MA  02780
Pappas Rehab. Hospital for Children  (Canton)
781-562-0349
781-562-1058
3 Randolph St., Bradford Building, 2nd Floor
Canton, MA 02021
Seven Hills Pediatric Center (Groton)
978-732-5400
978-448-2695
22 Hillside Ave.
Groton, MA  01450
West Springfield
413-363-1345
413-363-1676
1275 Elm St. Suite B
West Springfield, MA 01089
Worcester
508-796-1555
508-796-1562
150 Goddard Memorial Drive, Suite 2
Worcester, MA 01603
Wrentham Developmental Center
508-384-8987
508-384-6594
131 Emerald St. (Located in the May Center at 1 Curtis Ave.)
Wrentham, MA 02093
Do you provide free care?

No, we cannot provide free care/services, but most patients will be eligible for MassHealth insurance. If you would like more information about receiving insurance through MassHealth, please click here.

How do I become a patient at Tufts Dental Facilities?

To receive care at TDF, all patients must first meet certain qualifications. Caregivers should contact their nearest facility from our list of locations.

What insurances do you accept?

Tufts Dental Facilities accept a variety of insurances, including MassHealth. Please call your nearest location to verify insurance.

Do you need to have insurance to be a patient?

No. Some of our patients/caregivers pay out of pocket. However, please note that we cannot provide free care.

If a current TDF patient requires urgent dental care when the TDF clinics are closed (e.g., nights, weekends, and holidays), emergency services are available at Tufts Medical Center (TMC) in Boston. To contact TMC, call 617-636-5114 and ask for "Emergency Dental Care." Alternatively, caregivers and patients can instead contact their closest emergency room for services.