General Practice Residency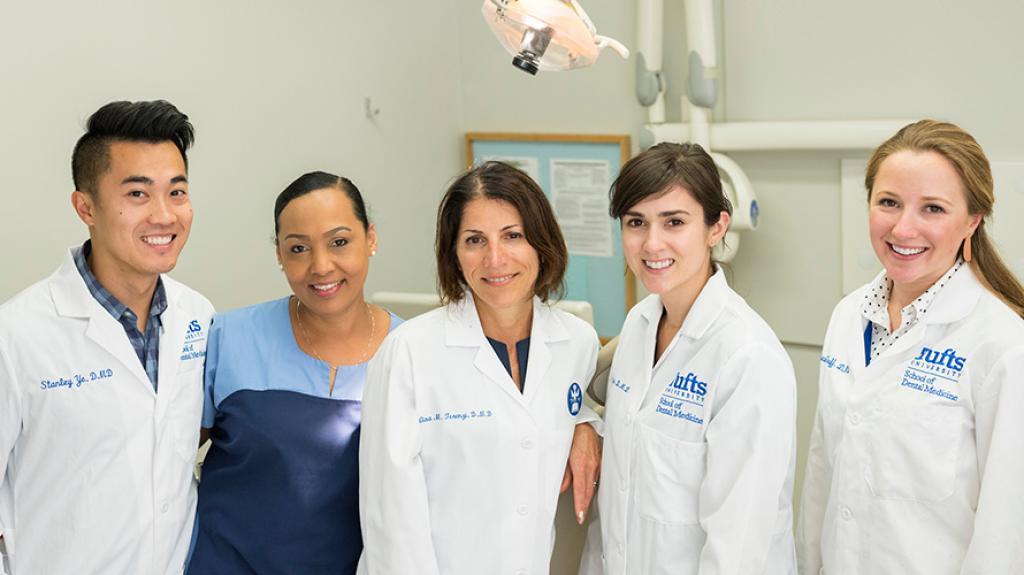 The Tufts University General Practice Residency Program (GPR) was founded in 1976 and is Accredited with the Commission of Dental Accreditation. It is conducted with the cooperation and participation of its sponsoring institution, Tufts University School of Dental Medicine (TUSDM), its major affiliated institution, Tufts Medical Center and Tufts Dental Facilities (TDF).
Curriculum Overview
The rotations provide the residents with diverse clinical and educational experiences. At the TDF clinics in communities surrounding Boston, residents receive training in the diagnosis and treatment of oral disease, with an emphasis on prevention and restoration, for patients with multiple disabilities and limitations. The clinical rotation at Tufts University School of Dental Medicine emphasizes crown and bridge, restorations and treatment of the general population with complex dental needs. At Tufts Medical Center, residents receive training in emergency care. The residency program also has an anesthesia rotation at the Franciscan Children's Hospital and an emergency medicine rotation at Tufts Medical Center. Residents receive additional training in hospital dentistry while assisting Tufts staff in operating room (OR) cases at three major area hospitals. The GPR enjoys participation in the largest OR dental rehabilitation program for special needs patients in the country, with an average of eighty cases managed per resident. Specialty clinical and seminar rotations provide the residents with advanced training in history and physical diagnosis, conscious and sedation, periodontal surgery, endodontic therapy, oral surgery, temporomandibular disorders, and implantology.
An extensive academic program is conducted throughout the year. The program includes continuing education courses given at both the university and other institutions, weekly patient care conferences with guest lectures, and seminars on current issues in dentistry and medicine. Emphasis is placed on ideal, alternative, and actual treatment planning via case presentations for both dental and medical management for all patient populations. Research projects are completed by each resident for presentation at the annual TUSDM Bates-Andrews Research Day.
The residents have the opportunity to work with many nationally and internationally recognized faculty members. Residents will receive one-on-one mentorship from faculty members at TDF as well as the faculty at TUSDM. The program's faculty members come from diverse dental and postdoctoral training backgrounds from around the world. In addition, their combined experience in the private sector provides the residents with a solid foundation for practice management upon completion of the program.
The goals and objectives of the Tufts GPR will prepare graduates to become an important part of the communities they choose to serve. Emphasized goals prepare practitioners to
Act as a primary care provider for individuals and for groups of patients;
Apply their exposure to advanced dental treatment modalities to the practice of dentistry;
Have a working knowledge of developmental disabilities, mental illness, and physical disabilities and the impact these conditions have on the provision of comprehensive dental care;
Function effectively within the hospital and other healthcare environments;
Function effectively as a member of an interdisciplinary health care team;
Provide emergency oral health care;
Promote disease prevention and oral health promotion for patients in the clinical environment as well as the community;
Manage the delivery of oral health care by applying concepts of patient and practice management;
Understand the fundamentals of quality care and the concept of quality assurance;
Apply scientific principles to learning and oral health care;
And utilize the values of professional ethics, patient's rights, lifelong learning, patient-centered care, adaptability, and acceptance of cultural diversity in professional practice.
Each trimester, faculty members review individual personal and professional goals specifically designed by each resident. Each resident is able to focus on his/her own needs and interests in dentistry and medicine and to further enhance the variety of definitions he/she may consider necessary to be successful in post-graduate training.