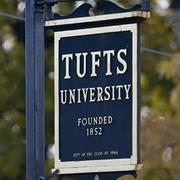 Research/Areas of Interest: Dr. Dolce's research interests include innovations in interprofessional education/practice; creating and testing novel, integrated care delivery models; improving oral-systemic health of vulnerable and underserved populations and communities.
Education
PhD, New York University, New York, United States
MA, New York University, New York, United States
BS, New York University, New York, United States
Biography
Maria C. Dolce, PhD, RN, CNE is Director of Interprofessional Education and Practice at Tufts University School of Dental Medicine. Dr. Dolce is nationally and internationally recognized as a leading expert in interprofessional education and practice (IPEP). She is also known for the conceptualization and development of the Nurse Practitioner – Dentist Model for Primary Care at Harvard School of Dental Medicine, an interprofessional value-based health care model integrating primary care and oral health services. She previously served as subject matter expert and consultant for Harvard's Center for Integrating Primary Care and Oral Health. From 2009 – 2012, Dr. Dolce was a Clinical Assistant Professor at New York University (NYU) and served as Program Director for NYU's Oral Health Nursing Education and Practice, a national initiative to integrate oral health in nursing education and practice. In 2012, she transitioned to Northeastern University Bouvé College of Health Sciences as Associate Professor and led a college-wide IPEP program, Innovations in Oral Health, to integrate oral health across health sciences curricula. Her research areas of interests include improving oral-systemic health for vulnerable and underserved populations through IPEP; and testing innovative integrated care models. Dr. Dolce has published and presented her work nationally and internationally. She serves on the steering committee for Smiles for Life: A National Oral Health Curriculum; and manuscript reviewer for several interprofessional journals including the Journal of Dental Education. Dr. Dolce earned her BS, MA, and PhD degrees from New York University; and is a Certified Nurse Educator recognized by the National League for Nursing. She is a member of the American Dental Education Association, American Association of Dental Research, International Association of Dental Research, American Association of Public Health Dentistry, and American Public Health Association.