Dental Sleep Medicine Fellowship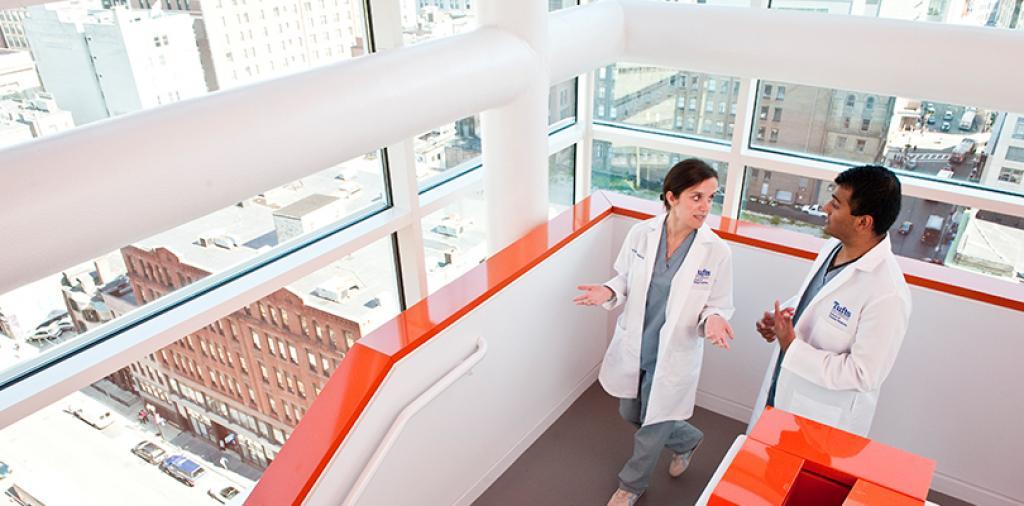 The Dental Sleep Medicine Fellowship program at Tufts University School of Dental Medicine aims to provide excellent patient care, strong teaching, and a broad clinical exposure to dental sleep medicine via didactic, direct patient contact, and rotations in the pulmonary, sleep laboratory and ENT departments.
About the Program
The Fellowship program will provide exposure to aspects of the diagnosis and clinical examination relevant to sleep medicine, and dental sleep medicine, the principles of oral appliance design, selection, fitting, adjustment, and familiarity with the identification and management of short and long term side effects from oral appliance therapy.
This includes a multidisciplinary approach and close collaboration with a sleep physician, comprehensive assessment of sleep apnea patients being considered for oral appliance therapy, selection of appropriate patients based on diagnosis of sleep disorders, severity of obstructive sleep apnea, and anatomical features.
Fellows will directly participate in patient assessment, treatment and follow up appointments. During this process, the fellow will gain experience on reading and interpretation of diagnostic sleep studies, selection, fitting, and adjustments of appropriate dental devices for the management of sleep disordered breathing, understand the use and limitations of out of center sleep test monitors during oral appliance titration, and demonstrate an understanding of the potential limitations and complications of dental devices.
Dental Sleep Medicine Clinic
During regular clinic schedule the fellows perform the clinical history intake and document face to face examinations, and follow up appointments as part of the medical record documentation. During these clinical sessions the attending faculty will supervise all trainee activities, and teaching will occur in a patient centered multidisciplinary approach.
During the program, fellows will present clinical cases, participate in poster presentation and publications related to clinical and research done during the program.
Lectures and Research
Fellows will be active participants in sleep lecture series, research seminars and interdisciplinary case conference throughout the fellowship. Lectures will be conducted by faculty members, guest speakers and residents on topics relevant to sleep medicine, and dental sleep medicine.
Each fellow will pursue a research project under the guidance of a faculty mentor. In pursuing their research project, the fellow will gain exposure and training in all aspects of basic scientific investigation. Each fellow will learn how to formulate a research plan, prepare a research protocol, conduct research, analyze findings and present these findings in research seminars and national meetings.
Rotations:
Fellows rotate on the following departments:
Sleep Center
Pulmonary Clinic
ENT Clinic
Application Process and Board Certification in Dental Sleep Medicine
Candidates must hold a DMD, DDS, or BDS degree
International applicants must submit a TOEFL test
Curriculum vitae
Personal statement about why he or she is attracted to this program
Two letters of recommendation
Applicants will be selected for an initial interview
Complete Tufts application
The process to become board certified in dental sleep medicine is through the American Board of Dental Sleep Medicine (ABDSM). Fellows will be encouraged to take the board examination and will be guided during the application process. Emphasis is placed upon training the fellow to the standards for Board certification.
For additional information about the program, please contact: Leopoldo P. Correa, BDS, MS: leopoldo.correa@tufts.edu.
Required Courses and Reading Material:

Biostatistics 1A
Dental Sleep Medicine
Overview of TMD & Orofacial Pain
Management of Medical Compromised Patients

Articles relevant to the areas of sleep medicine and dental sleep medicine will be provided, recommended text books will be purchase by fellows.

Competency Assessment

Faculty continually will assess the fellows during all clinical activities with focus on collaborative, patient centered care, informal assessment of cognitive skills, informal teaching discussions, and assessment based on the following 5 competences:

1) Patient Care:

Perform a thorough medical history and physical exam
Order appropriate diagnostic tests
Reading and interpretation of sleep studies
Form a clinical assessment, treatment plan, short and long term follow up
Interact with other health care providers to implement patient focused care

2) General Knowledge:

Access and critically evaluate current medical information and scientific evidence relevant to sleep medicine and dental sleep medicine.

3) Practice-Based Learning and Improvement:

Identify and acknowledge gaps in personal knowledge and skills
Clinical case presentations
Presentation at Journal Club
Participation in research projects and writing publications.

4) Interpersonal Skills and Communication:

Communicate effectively with patients
Communicate effectively with physicians, and members of other health care professions
Presentations in clinical case conferences.

5) Professionalism:

Evaluation on periodic basis (monthly)
Carrying out professional responsibilities and adherence to ethical principles
Completion of assigned duties including clinical record documentation
Attend required conferences
Adherence to the principles of good clinical practice and patient safety
Behave professionally towards patients, families, colleagues and all members of the health care team.