Advanced Education in Oral Medicine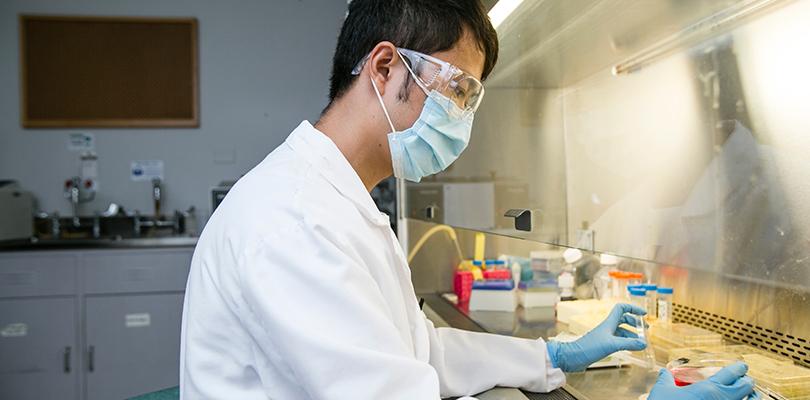 The postgraduate Oral Medicine program is a full-time, two-year, interdisciplinary certificate program with the option of a third year leading to a Master of Science degree. The program is accredited by the ADA Commission on Dental Accreditation and two positions are available each year, beginning in July. It is designed to provide candidates with training beyond the level of predoctoral education in oral health care using evidence-based diagnosis and management of diseases affecting the oral cavity, as well as treatment for medically compromised patients.
A comprehensive didactic curriculum is presented through the postgraduate courses offered by the Advanced Education Program at Tufts University School of Dental Medicine. The courses are designed to meet the American Dental Association and the American Academy of Oral Medicine standards. Clinical training will be conducted on a one-on-one basis at the Oral Medicine Clinic at Tufts University School of Dental Medicine, an interdisciplinary center utilizing multiple current approaches to diagnosis and treatment. The faculty consists of dental medicine specialists, physician specialists and other healthcare providers, such as nutritionists, nurses, and psychologists. Residents will also train and participate in rounds at Tufts Medical Center, and see hematology, oncology, otolaryngology, infectious disease, dermatology, nephrology, and rheumatology patients. They will attend weekly head and neck tumor board conferences and follow-up by treating these patients both on an inpatient and outpatient basis. 
Didactic Curriculum
Core and Interdepartmental courses, including:
Advanced head and neck anatomy
Biostatistics 
Cell and molecular biology
Fundamentals of immunology
Biology of saliva & salivary glands
Pharmacotherapeutics and Dental pharmacology
Oral and maxillofacial radiology
Postdoctoral oral and maxillofacial pathology
Management of medically compromised dental patient
Diagnosis and management of temporomandibular disorders and orofacial pain
Neuroanatomy, neurophysiology and neurological evaluation of pain
Pain assessment and management
Residents will attend courses and seminars at the Oral Medicine Center. These range from literature review sessions and board review seminars to patient management conferences, visiting lecturers, and research meetings throughout the City of Boston. This oral medicine curriculum will include weekly oral medicine seminars, literature review sessions, clinic-pathological conferences and patient management conferences throughout the length of the program which reviews teaching cases from the Oral Medicine Clinical Center and the Tufts University School of Dental Medicine Oral Pathology Service. Residents will also attend Head and Neck Tumor Board on Wednesdays throughout the length of the program This forum will provide the resident the opportunity to learn clinical pathologic, radiologic, surgical, and radiation and chemotherapy management aspects of patients with complex conditions that affect the oral, maxillofacial and head and neck complex. Residents will also attend bone marrow boards as well as pain and internal medicine grand rounds as permitted by the program schedule.
Clinical Rotations
Oral Medicine Clinic
Clinical training will be completed at the oral medicine clinic. Residents will have extensive exposure to oral Medicine patients on a daily basis. Residents will learn how to diagnose and treat patients from a multidisciplinary approach. Interactions between residents and other faculty members including oral medicine specialists, oral pathologists, oral surgeons, medical and radiation oncologists, otolaryngologists, rheumatologists, dermatologists and infectious disease specialists will form the basis for establishing treatment plans and managing patients. With hundreds of new patients every year, and two years to follow up cases, this program will provide residents with a unique clinical experience. Residents will also have extensive training in diagnostic imaging including ultrasonography, CT scan, MRI, MRA, etc.
Craniofacial Pain, Headache and Sleep Center
In the Craniofacial Pain Center, the residents will learn how to evaluate and diagnose patients with complex painful disorders of the head and neck region utilizing state-of-the-art clinical technology. The Center has a diverse group of pain physicians, dentists, physical therapists, psychologists and rehabilitation specialists, and interacts closely with other pain specialists in other university and hospital-based centers in the New England region to provide the broadest and most up to date techniques of pain management. Pain controlling modalities includes pharmacotherapy, biobehavioral interventions, electromyographic (EMG) biofeedback techniques, oral appliance therapy, trigger-point injections, anesthetic nerve blocks, neurological treatment for headaches and orthotic devices therapy for obstructive sleep apnea. The center incorporates additional alternative and complementary medical modalities such as acupuncture, acupressure, nutritional counseling, and chiropractic remedies.
Physical Diagnosis
Early in the first year, the residents will receive formal instruction in physical evaluation and medical risk assessment at Tufts Medical Center by a staff physician. Residents will assist medical staff supervisors in taking histories and physical examinations during the Medicine rotation. In addition, a physical evaluation for ambulatory patient care will be performed, supervised by attending staff, including a comprehensive head and neck exam.
Hospital Rotations
Tufts Medical Center (TMC) is a world-class academic medical center offering outstanding patient care, teaching generations of future physicians the most advanced medical science and breaking new ground with ongoing innovative research.
Second-year residents will rotate through several departments at TMC including internal medicine, hematology/oncology, nephrology, medical oncology, radiation oncology, otolaryngology, rheumatology, dermatology and infectious disease. This will broaden the residents understanding to manage patients with acute and chronic illnesses such as viral infection, organ transplantation, liver disease, HIV, autoimmune disease, cancer and dermatological lesions.
Special Care Rotation
Tufts University School of Dental Medicine offers students a unique opportunity to work with special needs patients in a clinical setting. Residents will rotate through one of the Tufts Dental Facilities, where they will assist in treating day surgery patients who reside at the Fernald Developmental Center, supervised by medical staff.
Graduation Requirements
In order to complete the program and qualify for graduation, residents must complete the following requirements:
Successful completion of all postdoctoral "core" curriculum courses. (Residents must achieve a grade of "B" (80%) or better in all courses.)
Successful completion of all clinical requirements.
Successful completion of departmental written/oral examinations (2 per year).
Successful completion of developing a scholarly manuscript for submission for publication and/or presentation at Tufts University Research Day or at a national meeting.  This manuscript or presentation must be supervised by one of the Faculty members.
Satisfactory review by the Faculty – Student Evaluations every 4 months.
Masters of Science (additional third year)
In addition to the Certificate Program, Tufts School of Dental Medicine will offer a third year leading to the Master of Science Degree from Tufts University. This degree will have didactic and research requirements in addition to the clinical component. The didactic section of the degree requires that the resident completes 18 credit hours of courses toward the MS degree. Some of these courses may be completed in the first two years. Graduate level courses will be available at the School of Dental Medicine, the School of Medicine, the Tufts Graduate School of Biomedical Sciences, the Jean Mayer Human Nutrition Research Center on Aging, and Tufts University Graduate School of Arts and Sciences. Students will be guided by their research interests and thesis topic when designing an elective curriculum. It will also be possible to undertake a program of independent study for up to three credits. Contracts for independent study must be approved by the Director of Advanced and Graduate Education and filed in the Office of Advanced and Graduate Education.
Residents will also be required to construct an original research proposal as part of their thesis. The thesis will be a culmination of an original investigation leading to new information. The thesis should characterize, in a scholarly manner, the importance of this information as it applies to the field of study. The thesis should reflect the methodology, techniques, statistics and literature background used, as well as scientific logic necessary for acceptance of the results and conclusion.
Upon successful completion of the MS program, a resident should be qualified to participate in the clinical aspects of oral medicine and pursue an academic position and conduct independent research.
Professional Activities
American Academy of Oral Medicine
All residents will automatically become members of the American Academy of Oral Medicine upon matriculation and throughout their training.
Residents should subscribe to the Bulletin Board of Oral and Maxillofacial Pathology (BBOP):
Send an email to the following address: listserv@listserv.acsu.buffalo.edu
Residents should also subscribe to the Bulletin Board of Oral Medicine. To join the IBBOM, simply send a blank message to: join‐ibbom@forums.nyu.edu
Board Examination
Residents are expected to challenge Part A of the American Board of Oral Medicine examination prior to graduation, during the second year of training. Applications for Part B examination can be made to the ABOM 18 months following the successful completion of the certificate program. Applications not meeting this minimum time requirement will be held until the requirement is met. For further details, consult the AAOM website at www.aaom.com.