Dentist on Display: Kyle Dunmire, D14, DG15
Dentist on Display is a series created by Career Services spotlighting young Tufts Dental alumni doing extraordinary work around the globe.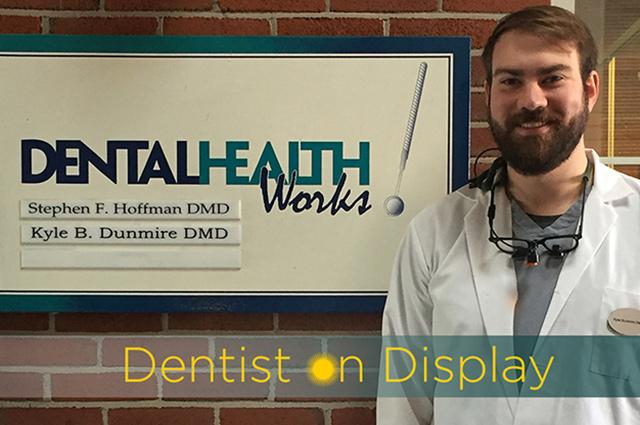 Initially, Kyle Dunmire, D14, DG15, was not planning to pursue dentistry. Although his mother was a dental assistant and he had experience shadowing in dental offices, he was more interested in pursuing a PhD within the biological sciences. During his senior year of college, he worked on a senior thesis and focused on research. After graduation, he spent two years continuing to work in research at a lab. It was his realization that he disliked writing papers and grants that changed the course of his career.
"What I really enjoyed was a lot more of the hands-on stuff in the lab," Dunmire said. "I would do a lot of dissections and things like that and that kind of made me fall back in thinking about dentistry again."
Dunmire's decision to attend dental school was one of several pivots that has impacted his career path, leading him to his current position practicing dentistry at a non-profit organization in Keene, New Hampshire.
Career Plan After Tufts Dental
As Dunmire approached his DMD graduation, he knew what he didn't want to pursue, but was not certain about the path he did want to take. He knew he didn't want to specialize and had concluded that he didn't want to spend additional time in school.
"I knew I wanted to do general dentistry in the sense that I wanted to do a little bit of everything and I was exploring just going into private practice [and] finding a private practice dentist that wanted an associate, " he said. "But I wasn't convinced that I was ready. I think that we all kind of think that we're ready when we're about to leave dental school but I wanted to be sure that I wasn't over my head."
By mid-February, Dunmire had begun interviewing for associate positions with private practices. Simultaneously, he heard about a new AEGD program that Tufts was starting in Maine.
"I had gone to school in Maine and I was born in Maine so I was familiar with the area," Dunmire said. "It was a new program and I was kind of excited to be the guinea pig. It was in a location that I knew I was probably thinking about spending some part of my life in -- that's what kind of made me jump on the opportunity."
Dunmire submitted his application materials as he continued interviewing with private practices. He was even offered an associate position. But upon learning of his acceptance to the AEGD program, Dunmire again shifted career paths, turning down the job offer and becoming a participant in the inaugural class of Tufts AEGD Maine-based Residency program.
Tufts AEGD Maine Based Residency
During the year-long AEGD program, Dunmire split his time between practicing at Community Dental clinics in South Portland, Biddeford and Lewiston, Maine.  "I was working in three different locations and I was working with a population of Maine that a lot of people don't realize exists," he said. Dunmire's patient population included a variety of ethnic and racial minorities as well as lower income populations.
Dunmire would see patients all day, under the guidance of preceptors. He was able to treat dental emergencies in addition to his scheduled patients. On a monthly basis he would either return to Tufts for lectures or participate in online lectures. Although he had initially considered practicing dentistry immediately after graduation, Dunmire views the AEGD program as an invaluable experience. He cites the variety of procedures that he was able to practice, including root canals and extractions as a benefit to becoming a more experienced dentist.
"I think I'm doing more well-rounded procedures…than I probably would have if I had just gone straight into private practice."
Career Decisions Post AEGD
As the program was winding down, Dunmire was once again in a position where he needed to determine the next steps in his career.
"I have family that lives in New Hampshire and I decided that I probably wanted to end up in New Hampshire eventually, so I decided to make that transition sooner rather than later," he said. "I was looking for a solo location with a well-rounded dental team that clearly works well together in an established practice."
Dunmire used a combination of networking and working with recruiting agencies to begin to get interviews. However, he ultimately accepted a position that he found unexpectedly. While looking at the New Hampshire Dental Society's website, he saw a posting for a non-profit organization called Dental Health Works located in Keene, New Hampshire.
"I had no idea that there was actually a non-profit organization in New Hampshire so when I found this job online and I went and interviewed, [I] realized it was exactly what I was looking for from a private practice perspective. But instead, it was a non-for-profit that was seeing the population of people that don't necessarily have access to dental care. That was when I knew that that's where I wanted to be."
Working at Dental Health Works
One of the aspects of Dental Health Works that appeals to Dunmire is its similarity to a private practice office in terms of organization and staffing. Dunmire works with one other dentist and multiple hygienists. He starts his day at 8 a.m. and typically sees five or six patients in the morning and four or five patients in the afternoon, leaving around 5 p.m. Dunmire also likes the variety of procedures and patients with whom he interacts on a daily basis. He sees Medicaid patients as well as private pay patients, and also sees a variety of age ranges. He also reserves Wednesday afternoons for Medicaid extractions. "I have a good mix of patient population and that goes back to the well-rounded [aspect] - I'm not stuck doing one thing all day long so I really enjoy that," he said.
The position also allowed for Dunmire to continue to practice in a more rural setting. After six years of living in Boston, this transition was an easy one. "I just knew I didn't want to confine myself to a really congested area," he said. However, it was the mission of the non-profit that was the biggest determining factor to his move to Keene. "It's not so much the rural aspect. Even though I didn't want to live in downtown Boston anymore, it was more the non-profit aspect that drove me to where I'm working."
As a result of being in a more rural environment, Dunmire's portfolio of work is more expansive; he tends to refer patients to specialists less frequently since there are fewer specialists in the area. "We've got endodontists, but we've only got two oral surgeons, one of [whom] is now retiring and the other one is now the only one who will take Medicaid patients for extractions, so we end up doing a lot of the oral surgery procedures."
Dunmire also does some root canals and sees some pediatric patients. "I think overall I'm probably referring a lot less than a lot of private practices do." Dunmire has patients that drive more than 30 minutes to see the dentists at Dental Health Works. "If they don't have private dental insurance or can't afford dental work, generally we give reduced fee programs and things like that. So they'll come to us because they would otherwise not have anywhere to go."
Advice to Dental Students
Dunmire recommends exploring multiple opportunities to help in determining the best career path option. "I think the biggest thing that drove me away from being a dentist in the first place was because I was really concerned about the thought of having to run a small business on top of being a doctor," Dunmire said. "But you don't have to do that if you're a dentist. That's not the only option so it's really important to think about and explore the other different directions you can take after dental school."
If you are interested in nominating a recent TUSDM alum, please contact Marguerite Moore, Assistant Director of Student Affairs and Career Services, at marguerite.moore@tufts.edu. Visit the Dentist on Display archive.