2023 Bates-Andrews Student Research Day
Since the 1930's, TUSDM has held this event annually to promote student research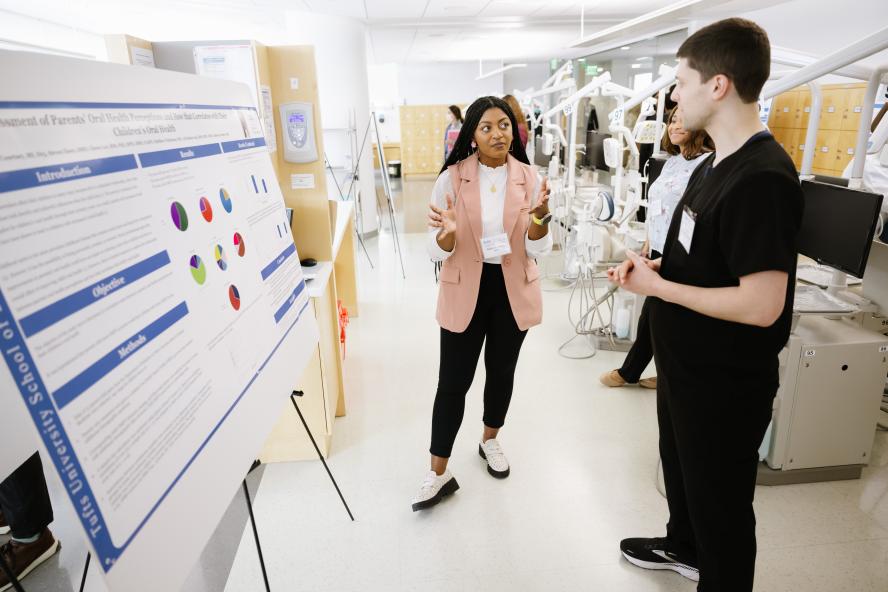 On March 1, 2023, Tufts University School of Dental Medicine celebrated it's annual Bates-Andrews Student Research Day. This year's event featured 57 student poster presentations, up from 38 last year!
It was a very successful event, and we want to acknowledge not only the award winners listed below, but ALL of the students who participated. We appreciate the dedication of the faculty advisors for their mentorship and keynote speaker Bernard Arulanandam, Ph.D., M.B.A., Tufts University Vice Provost for Research, who presented "Framing the Research Landscape: Opportunities and Challenges". Special thanks go to the judges, the commercial exhibitors, and the Office of Alumni Relations, all of whom help make this event a success. Eileen Doherty's guidance as Senior Director of Predoctoral Student Research, Dr. Athena Papas's leadership as Interim Associate Dean for Research, and the work of the rest of the Research Administration Team are highly valued because their efforts enhance our students' research experiences.
History of Bates Day
Since the 1930's this day is held annually to honor George A. Bates, and alumnus of Tufts University School of Dental Medicine, who taught Tufts medical and dental students. He was regarded by his students as an inspiring instructor in Histology. Bates Day at TUSDM helps to promote student research and thereby enhance the opportunities for professional growth of our students, alumni and faculty. The Robert R. Andrews society is a student-run organization which was formed in 1921 in honor of Dr. Andrews, an outstanding researcher and distinguished dental surgeon. The Andrews Society seeks to promote dental research and to honor those who excel in it.
FULL 2023 BATES-ANDREWS DAY PROGRAM
Winners of this year's Bates-Andrews Day are as follows:
We would like to recognize and thank the following organizations or individuals that support us:
42 North Dental
Dr. Chad Anderson, D04
Benco
Brasseler USA
Colgate
Dentsply Sirona
Door to Door Dental
Doctors Disability Specialists
Eastern Dentists Insurance Company
Enova
Dr. Matthew Finkelman
Haleon
Hu-Friedy Group
Ivoclar-Vivadent, Inc
Massachusetts Dental Society
New England Family Dentistry
Nobel Biocare
Dr. Aikaterini Papathanasiou
Provide
Shofu
Surgitel
Dr. Steven Tonelli, D80
Ultradent Products, Inc.

Tufts University acknowledges the support of these sponsors and corporate attendees, but does not necessarily share their views and does not endorse, support or promote any of the sponsors, corporate attendees or their services or products.
Special thanks to the following Tufts faculty, staff and students:
Research Committee:
Dr. Addy Alt-Holland
Dr. Maria Avrampou
Ms. Pamela Corrado
Ms. Eileen Doherty
Ms. Katie Dunn
Dr. Matthew Finkelman
Dr. Maria Hernandez
Anna Kim, D24
Ray Kim, D26
Dr. Gerard Kugel
Dr. Miriam Malament
Dr. Sarah Pagni
Dr. Evangelos Papathanasiou
Krupa Patel, D25
Dr. Ronald Perry
Mackenzie Stephens, D23
Dr. Naciye Guzin Uzel
Dr. Pamela Yelick
Yau-Hua Yu
Dr. Athanasios Zavras
Dr. Driss Zoukhri
Bates-Student Research Group and Andrews Society officers:
Jiahui Huang – Co-President
Gina Kim – Co-President
Nicholas Wong – Vice President
Daniela Cojocaru - Secretary
Megha Kanabar – Treasurer
Natalie Tran – Social Media