Advanced Education in Prosthodontics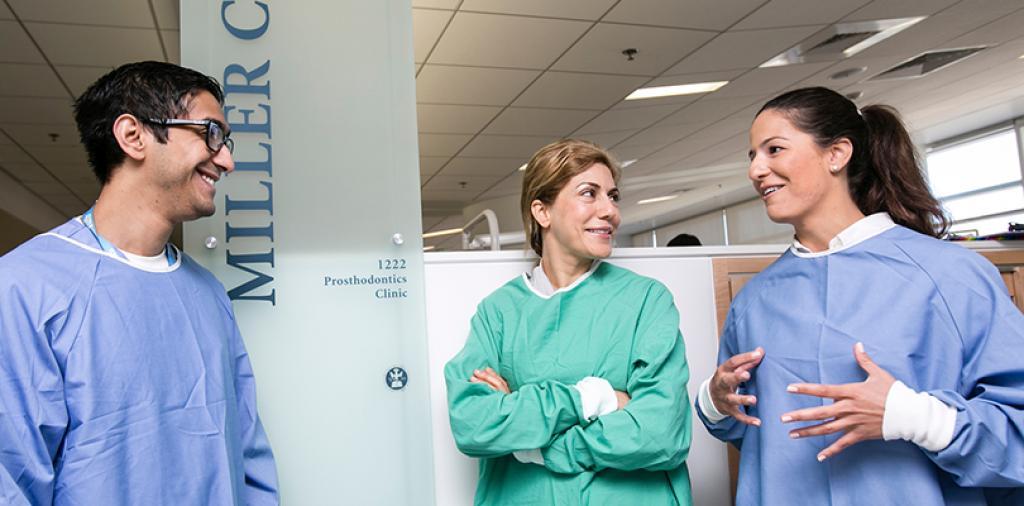 The Advanced Specialty Education Program in Prosthodontics is accredited by the American Dental Association (ADA) Commission on Dental Accreditation (CODA). The three year program starts July 1 of the first year of program and ends June 30 of the third year of program. It leads toward a Certificate of Achievement in Prosthodontics which qualifies the candidate for the American Board of Prosthodontics (ABP) Certifying Examinations. 
The certificate program may be combined with the Master of Science (MS) program upon the program director's approval. If residents are enrolled in the three year combined program, both the certificate and the MS degree will be awarded together only after all requirements for the certificate and the MS programs are completed.
The postgraduate prosthodontics program provides residents with the knowledge and skills to meet all standards as established by the CODA. During the 36 months of program, extensive didactic, clinical and laboratory phases of training are offered in, but are not limited to,
Fixed and removable prosthodontics,
Esthetic dentistry,
Implant dentistry (including surgical placement),
Digital CAD/CAM dentistry,
Maxillofacial prosthetics,
Partial and full mouth rehabilitation.
Additional emphasis is also placed on diagnosis, treatment planning as well as comprehensive care for advanced patients using an evidence-base, multidisciplinary approach. The following latest digital CAD/CAM technology, is well integrated into the program's educational and patient care processes that take place in the newly built facility including library, clinic and laboratory;
Intraoral and laboratory scanners,
CAD design and modeling software and Implant planning software,
3D dental printer and 5-axis CAM milling machine,
Jaw tracking device.
Course of Study
Advanced Education Courses
Biostatistics I and II
Epidemiology and Critical Thinking in the Practice of Dentistry
Critical Evaluation of Scientific Literature
Oral & Maxillofacial Radiology
Management of the Medically Compromised Dental Patient
Dental Pharmacology
Clinico-Pathologic Conferences in Oral and Maxillofacial Pathology
Overview of TMD & Orofacial Pain
Biology of Saliva & Salivary Glands
Interdisciplinary Treatment Planning Seminar
Complex Case Management Seminar
Departmental Courses
Head & Neck Anatomy for Prosthodontics
Advanced Fixed Prosthodontics Laboratory
Advanced Removable Prosthodontics Laboratory
Comprehensive Literature Review I, II
Advanced Prosthodontic treatment Planning Seminar I, II, III
Management of Complex Patients through Diagnostic Wax-up
Osseointegration & Alveolar Tissue Regeneration
Implant Surgery
Pre-Prosthetic Surgery I, II
Advanced Fixed Prosthodontics
Advanced Removable Prosthodontics
Advanced Implant Prosthodontics
Advanced Occlusion I, II
Treatment of Endodontically Treated Teeth
Integration of Esthetic Dentistry and Prosthodontics
Research Methodology in Prosthodontics and Biomaterials
Advanced Prosthodontics Clinic 1-9
ABP Board Preparation
Practice Management in Prosthodontics
Faculty
Professor
Wael Att, DDS, Dr. Med. Dent, PhD
Ali Muftu, DMD, MSc, PhD  
Professor Emeritus
Hans-Peter Weber, DMD, Dr. Med. Dent
Associate Professor
Yong Jeong Kim, DMD, MS, FACP  (Associate Program Director)
Panagiotis Papaspyridakos, DDS, MS, PhD
Assistant Professor
Andre De Souza, DDS, MSc
Yo-Wei Chen DDS, MS, FACP
Khaled El Rafie, DMD, FACP   
Yukio Kudara, MDT
Gabriela Lagreca, DDS, FACP
Mariam Margvelashvili-Malament DDS, MS, PhD, FACP   
Sujey Morgan, DDS, MS
Konstantinos Vazouras, DMD, DDS, MPhil, MDSc, FACP (Program Director) 
Clinical Faculty
Paul Cammarata, DMD
Moftah El-Ghadi, DMD, FACP
Mario Gatti, DMD, FACP
William Heggerick, DDS, FACP
Kenneth Malament, DDS, CAGS, MSc FACP
Vincent Mariano, DMD, FACP
Mahshid Mirghassemi, DDS
Adjunct Faculty
Khaled Al-Abdullah, DS, MS, FACP
Lino Calvani, MD, DDS, CDT, MS, PhD, FACP
Savvas Kamalakidis, DDS, PhD, FACP
Konstantinos Michalakis, DDS, MS, PhD, FACP
Gianluca Paniz, DDS, MS, PhD, FACP
Roberto Pellecchia, DDS
Takayoshi Suda, DDS, FACP
Visiting Faculty
Vincent Bennani, DDS, PhD
YuSung Choi, DDS, MS, PhD
Kiyotaka Suzuki, DMD, PhD
Aris Petros Tripodakis, DDS, MS