An Important Announcement from Dean Huw F. Thomas
Huw F. Thomas, Dean of Tufts University School of Dental Medicine, to step down in June 2019.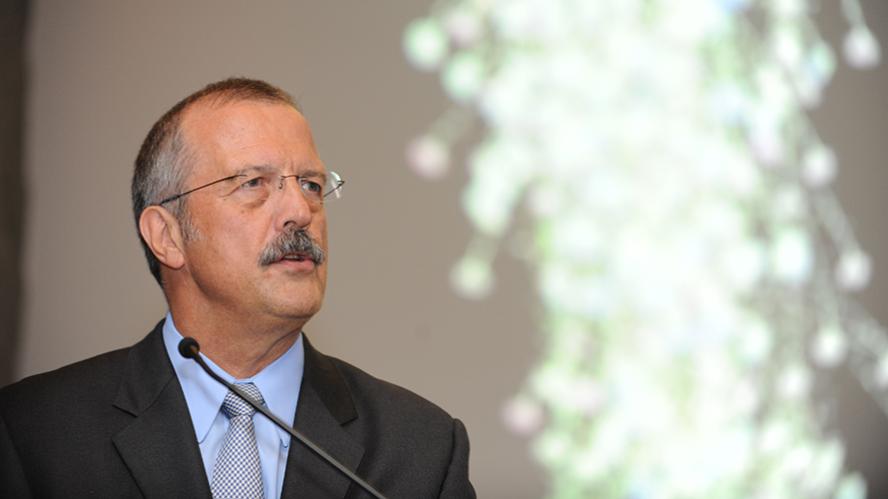 On Thursday, August 30, Dean Huw Thomas shared the following message with the TUSDM community: 
Dear members of the Tufts School of Dental Medicine community,
Greetings! It is with mixed emotions that I share the news that I will be stepping down as dean of the Tufts University School of Dental Medicine (TUSDM) on June 30, 2019. This fall, the university will launch an international search, led by Provost ad interim Debbie Kochevar, for a new dean. During that time, I will remain as committed as ever to preserving and expanding the school's excellence in dental education. I will continue to work with our vibrant and dedicated community of faculty and staff to provide our students with a comprehensive dental education that combines cutting-edge science, state-of-the-art technology, integrated patient care, and lifelong learning in a world-class environment.
I am proud of all that we have been able to accomplish together over the past several years to advance our mission and I look forward to our building on our impressive record of success. I am honored to have worked with an amazing group of faculty and staff who are devoted to the success of our school and our graduates, and a brilliant, committed student body who will undoubtedly influence the delivery of oral health care in the future. I consider myself extremely fortunate to have become part of the Tufts' family.
In 2013, after extensive involvement of our faculty, staff, alumni and students, we finalized Vision 2020, our strategic plan, around the themes of Curriculum, Research, People, and Community. I am delighted that we have made significant progress in the implementation of all of the plan's themes, to the immense benefit of the school and community.
At the core of TUSDM's vibrant teaching and research community is our outstanding faculty, whose primary focus is on patient care. One example of this engagement is the Basic Science/Clinical Science Spiral Seminar Series, which brings together teams of students from all four years to develop a comprehensive patient treatment plan that includes a study of the patient's health history, conditions, symptoms, diagnosis, and treatment options. Students draw on knowledge across subjects and across all four years of classroom and clinical instruction to hone their critical thinking, scientific reasoning, problem solving, and leadership skills.
For the past several years, we have seen more students than ever participate in research. We have consistently sent many of our students to national and international research and educational meetings and been proud to see them receive numerous external awards (as well as school awards) for their presentations. For five of the past six years, we have received recognition as the U.S. dental school with the highest number of student abstracts accepted at the American Association for Dental Research. Our students assume leadership roles in national professional groups, and we routinely send students and junior faculty to American Dental Education Association Leadership programs.
Another notable area of success has been our ability to attract and retain an increasingly diverse student body. The class of D2022 is one of the most diverse in the history of the school, and our applicant pool has grown and become more competitive as the number of prospective students with advanced degrees has steadily increased. I am proud that for the past seven years, more than half of our entering student population has been female.
Tufts dental students gain real-world experiences through inter-professional education programs that reinforce the importance of approaching the patient holistically. Included in these experiences is the fact that all of our students spend time treating patients with intellectual and developmental disabilities, another unique feature of our educational program. We also have ties with 42 dental schools in 20 countries, helping us to gain a global perspective and advance the practice of oral health to underserved populations around the world. Many of our students graduate Honos Civicus, a reflection of our commitment to community service, which remains central to the legacy of TUSDM.
TUSDM goes beyond oral health to teaching mind-body wellness—an innovative program that further distinguishes the school from its peers. The four-year curriculum now includes a mandatory three-week program for first-year students, as well as sessions on meditation, yoga, exercise, nutrition, sleep disorders, and stress, which are open to the entire school community.
Our faculty and staff are exemplary. We have formed representative advisory councils of both constituencies that have direct access to the dean. And although there is much more that we can accomplish, I believe that this move has significantly improved the communication and working environment of TUSDM. Faculty and staff development programs are in place, new by-laws have been approved, and we are nearing completion of our faculty handbook. Reflecting the increasing number of women in our student body, we have benefitted from an influx of female junior faculty and I am particularly proud of the appointment of women to senior leadership positions within the school.
Over the past seven years, I have enjoyed meeting and interacting with our amazing alumni and friends around the world, and relying on their guidance, mentorship and support as we strive to further TUSDM's reputation of excellence in education, critical care, and global outreach. Through the generous support of our alumni and friends, we have raised more than $23 million over the last five years in support of our campaign priorities, which includes construction of a new entrance, elevator and lobby that will reflect the innovative look and feel of the school above it and help set the tone of openness and warmth for everyone who passes through it.
At our anniversary gala event on September 28, we will celebrate 150 years of building a legacy of excellence in oral health education at TUSDM. It has been an honor to serve as the dean of TUSDM for the last seven of those 150 years and to lead our school's efforts in so many important areas. It has been a privilege to work with each one of you in so many different ways, and I thank you sincerely for this opportunity. I look forward to a future for TUSDM as bright and dynamic as its past.
My best wishes,
Huw
Dean, Tufts University School of Dental Medicine