Elevating women's philanthropy and Tufts dental students
The Dental Women Impact Tufts Scholarship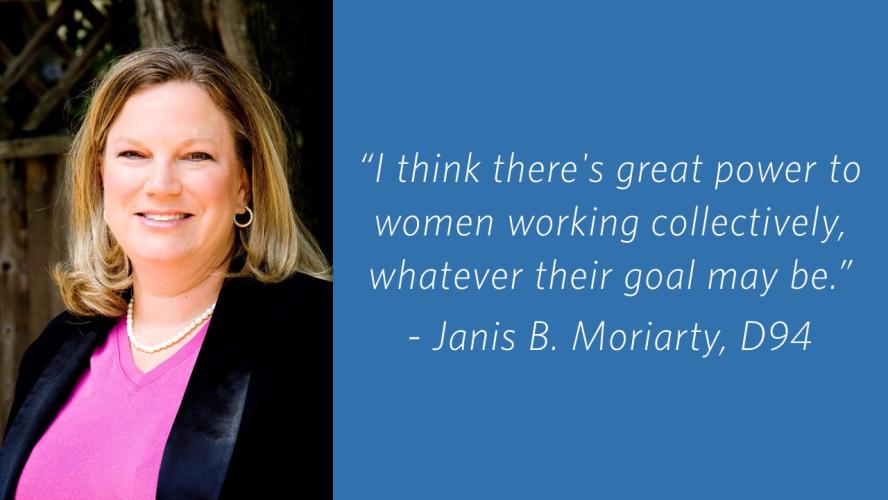 By Kris Willcox
"I think there's great power to women working collectively, whatever their goal may be," says Janis B. Moriarty, D94. Moriarty has practiced dentistry in Winchester, MA for three decades and served as president of the Massachusetts Dental Society, and the Tufts University Dental Alumni Association. She is a current member of the Tufts University Board of Trustees and the dental school's Board of Advisors. Recently, Moriarty embarked on an exciting collaborative project: a new scholarship for Tufts dental students, created through a university-wide effort led by Women Impact Tufts (or WIT), a group that aims to inspire women's philanthropy across Tufts and create fresh opportunities for collective giving. As Tufts strives to increase financial aid resources, Women Impact Tufts opens the door wider for women donors, and celebrates the contributions of female philanthropists.
"The minimum to establish an endowed scholarship is $100,000, which is beyond the reach of many individuals," says Moriarty. When she learned about Women Impact Tufts, which enables women to reach for a collective philanthropic goal together, she saw an opportunity to engage her own network of friends and colleagues to establish a new fund, starting with the other women on the Board of Advisors. The response was enthusiastic. "It took off really quickly," she says, "and now we have an endowed scholarship that will go to a dental student with financial need, prioritizing a recipient who is working to elevate women in dentistry."
The fund has reached $160,000 and continues to grow, with 27 individual donors participating to date. Among them is Moriarty's long-time friend and mentor, Kathy O'Loughlin, D81, who was the first female class president at the School of Dental Medicine.  O'Loughlin serves alongside Moriarty on the TUSDM Board of Advisors, is a former Trustee of Tufts University, and recently served as executive director of the American Dental Association.
"I love Tufts, and the dental school," says O'Loughlin. "Tufts gave me a great education and the chance to do some remarkable things in my career. I'm always happy to give back in any way I can." She adds that the new scholarship, and Women Impact Tufts, are great examples of women using their talent for collaborating, to have a positive impact. O'Loughlin is pleased that the scholarship will help to support individuals who will champion women in dentistry.
"Helping women to be strong leaders in the field, with their own style, is really important work," she says. "We are handing the reins to the next generation in dentistry, and we need to help future leaders, especially women, develop leadership skills and confidence." She looks forward to welcoming more contributors to the Dental Women Impact Tufts Scholarship. "This is an investment in our future."
"We are really psyched about what we're accomplishing," says Moriarty. "All of us are thankful for the fulfilling careers Tufts has enabled us to have, and now we can share that good fortune with others." She looks forward to a proposed Women's Summit in 2024, that will unite all alumnae of Tufts, including Women Impact Tufts participants and community members across the university, to network and learn from one another, while elevating the considerable power of relationships, and community for the greater good.
To make a gift to the Dental Women Impact Tufts Scholarship, go to: go.tufts.edu/dentalwomen or contact Rebecca Scott at rebecca.scott@tufts.edu or 617-636-2777.