Dentist on Display: Temurkin Cucukov, D14
Dentist on Display is a series spotlighting young Tufts Dental alumni doing extraordinary work around the globe created by Career Services.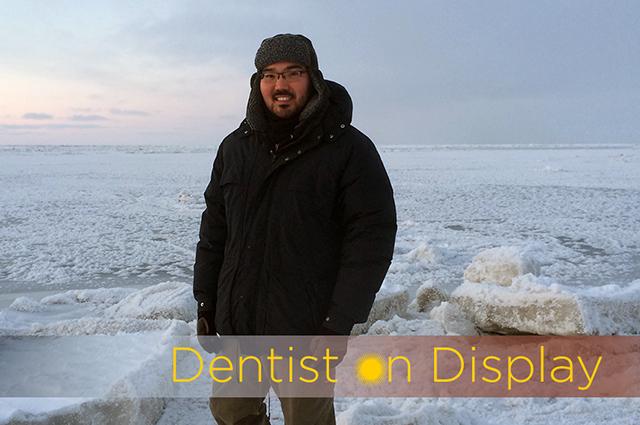 Temurkin Cucukov, D14, was looking for a second externship experience when he came across a two week program with Indian Health Services in Barrow, Alaska.
"I thought, of all the places I could go for the summer, that would probably be the most unique and interesting," he said. After being accepted, Cucukov learned that he was the first Tufts Dental student to enter the program, and had to work with Tufts Dental's administration to create an agreement between the school and the program.
But what was initially a two-week excursion to Alaska ultimately turned into a two year adventure.
"I wanted to do something different, do something that a lot of my colleagues haven't been able to do and I've always wanted to go to Alaska to live," he said. "So this was the perfect opportunity…I liked it so much that after my residency I thought I'd go back."
Living in Barrow, Alaska
Barrow, AK, a city of about 4,000 people, is located on the Arctic Ocean as part of Alaska's North Slope. The area is a flat tundra, with little precipitation – although snow is present for most of the year. Temperatures range from -40 degrees in the winter to 65 degrees in the summer. Cucukov said Barrow is not accessible by road; flying is the only way to enter and leave the city.
When Cucukov first imagined Barrow prior to his externship in 2013, he thought back to the Discovery Channel show Life Below Zero.
"It kind of focused on some of the more extreme environments in Alaska, and that's what I was expecting," he said. "So I was kind of shocked to see, when I came for that two-week experience, how much Barrow had to offer. And it's not as remote or extreme as it looks on the map. If you're coming to Barrow, it's not as roughing it as you might picture in your head. It's actually a pretty nice place to live."
Practicing Dentistry in Barrow
Cucukov practices at Samuel Simmonds Memorial Hospital, and works for the Arctic Slope Native Association, a private organization that contracts through the Indian Health Services. Typically he works from 9 am to 5 pm, spending his day with scheduled patients or working in the hospital's emergency clinic.
"Basically my daily life is just like that of any other dentist," he said. "The only difference is that I work in a hospital so there's quite a bit of collaboration between the dental clinic and the medical staff." Cucukov works with three other dentists and a dental hygienist.
Cucukov also travels four times a year, along with two dental assistants, to Wainwright, AK to provide treatment for the native Inupiat population.
"Each village has a health clinic, which has a dental operatory," he said. "So we go there and set up the clinic and we see patients, basically from nine in the morning to about seven at night for five days."
In Barrow, Cucukov primarily sees children and teenagers, who have poorer oral health outcomes than in other parts of the country. "The caries rate in Barrow and in the North Slope in general is very high," Cucukov said. "There's quite a bit of soda consumption [and] sugary foods. Sometimes oral hygiene isn't a priority for a lot of people so we see a lot of caries, especially in younger children."
Challenges of Working in Barrow
One of the challenges of practicing in Barrow is the lack of dentists in the area. Both Cucukov and another dentist he works with will be leaving at the end of the summer, and Indian Health Services is currently working to hire a dentist and a dental hygienist.
"It's hard to convince people to leave wherever they're from and come up here," he said. "And unfortunately there's no dentists or hygienists, at least that I'm aware of, that are from the Barrow area. Mostly everyone that comes here to work in the healthcare industry is from somewhere else."
It's also a challenge to recruit full-time specialists to the area. Cucukov consults with specialists who come to Barrow on a scheduled basis, including a yearly oral surgery clinic as well as visits from a periodontist and a prosthodontist.
"Coming up here sort of forces you to get out of your comfort zone," he said. "Luckily I did a residency before I came up here so I was pretty comfortable with doing some of the more difficult extractions that we experience here."
Barrow's distance from the east coast has also proved challenging. Cucukov is currently engaged and has been in a long distance relationship for the past three years.
"I've met a lot of great people and met a lot of good friends, but I am pretty far away from home," he said. So leaving my then girlfriend, now fiancée, and my family was definitely the hardest transition. Going somewhere where I had an idea of what I'd be experiencing but I didn't know who I'd be working with, I didn't know where I'd be living, so there were a lot of uncertainties when I came here at first. But luckily everything worked out."
Next Steps
Cucukov signed a two-year contract with Indian Health Services, the minimum length offered.
"I always had the goal of going back to the east coast, so two years was enough for me and I think I've had a good experience up here for those two years," he said.
He will leave his position in Barrow in September and currently plans to practice in Pennsylvania.
"I'm kind of torn between going into private practice or staying in public health," he said. "At least in Barrow, I don't have to sell treatment to patients, which I really appreciate."
While his next steps are dependent on the opportunities available to him in Pennsylvania, Cucukov could see himself remaining in public health for the near future and eventually opening a practice in his hometown in New Jersey.
Advice to New Graduates
Ultimately, Cucukov believes that his time in Barrow has been very rewarding.
"I think that part of it was that I wanted to challenge myself," Cucukov said. "I wanted to see if I was able to do it. I have my whole life ahead of me to have, you know, the conventional dental career [and] work at a private practice. For these first two years, I wanted to do something different." He would encourage other dental students to examine all of their options before making their first career decision. "There are a lot of different opportunities after graduating other than just private practice," he said. "Explore as many opportunities as you can and decide which one is the best fit for you."
-Marguerite M. Moore
Dentist on Display is a series spotlighting young Tufts Dental alumni doing extraordinary work around the globe. If you are interested in nominating a recent TUSDM alum, please contact Marguerite Moore, Assistant Director of Student Affairs and Career Services, at marguerite.moore@tufts.edu.