Dentist on Display: Judy Lee Moy, D05
Dentist on Display is a series created by Career Services spotlighting young Tufts Dental alumni doing extraordinary work around the globe.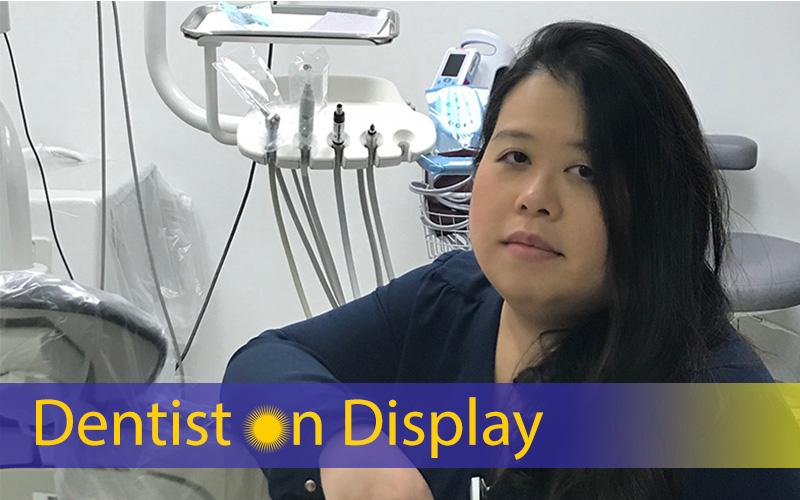 For Judy Lee Moy, D05, compassion, and open-mindedness have been the primary guiding forces in her career choices. During her general practice residency at Jacobi Medical Center, these traits launched her into her current trajectory. While completing a rotation at a city hospital in the Bronx, she treated her first of many patients who were HIV-positive. These patients told her that they did not always have positive experiences with medical providers. She realized that this population needed healthcare providers who were both knowledgeable and nonjudgmental. After finishing her residency, Moy worked locum tenens at a community health clinic. Afterward, she decided to apply for a part-time dental position at an HIV center at Mount Sinai which provided free care to HIV-positive patients. Ten years later, she is now the Dental Director for the Institute of Advanced Medicine, part of Mount Sinai's Health System and one of the largest HIV clinics in the country.
Working at Mount Sinai
When Moy first began working at Mount Sinai, she was not planning to stay for ten years. But she found that she connected not only with the patients but with the mission and philosophy of the clinic. The Institute of Advanced Medicine focuses on comprehensive care for individuals who are HIV-positive, members of the LGBTQ community, the formally incarcerated and their children.  
"The whole concept of [the clinic] is if you have care where all of your medical providers are linked up and you have adjunct services like dental, massage therapy, acupuncture, social work [and] care coordination all in one house, you can really help a patient be compliant with medication," she said. Moy explained that patient care is superior because all of the medical providers can communicate with one another. There are three dental clinics in Manhattan and a team that consists of four dentists including Moy, as well as a hygienist and three dental assistants. Other team members have assigned sites, while Moy rotates between the various locations. The clinics typically see between 15 and 20 patients per day, from 8:30 am until 5 pm.
As Dental Director, Moy is hoping to build a new, larger clinic in Harlem which also has space for specialists like pediatric dentists and oral surgeons. As of now, Moy takes on many of those duties herself, trying to decrease the number of patients who need referrals.
"We find that when we can give patients comprehensive care, the patient actually is compliant to your treatment plan…If I don't have to write out a referral for an oral surgeon, the patients are more likely to come back and see me and get everything done. Because if you have to send them somewhere else, you tend to lose the patient."
Moy currently considers herself a "jack of all trades," treating both children and adults, and performing all aspects of general dentistry including cleanings, fillings, extractions and dentures. Even in trying to minimize referrals, a major challenge at the clinic is still the no-show rate, which typically hovers between 40-50%. Despite these challenges, Moy's mission is to emphasize patient education with every patient she sees, hoping that each patient will also share the knowledge with others.
"And it doesn't just mean, 'Oh you need to brush your teeth twice a day,'" she said. She mentioned the importance of having patients understand more complex topics such as periodontal disease, and, if HIV-positive, the implications that different medications have on their health.
Treating HIV-Positive Patients
One group of patients that Moy sees regularly are those who are HIV-positive. She described the additional challenges that this group faces regarding patient care in light of the ever-present stigmas associated with being HIV-positive. As a result of these challenges, many of the patients were less than forthcoming with medical practitioners. Moy's goal is to remove that stigma and provide a different, more positive experience for her patients.
"I realized that these patients need someone who feels comfortable working with them," she said. "Dentistry is an intimate art. You're touching someone's mouth…they need to have someone who is passionate, understanding and who feels comfortable working with them. Because if they don't feel like you're comfortable and knowledgeable about working with them, they don't want to be there."
"One of my patients told me this was the first office she was comfortable at," Moy said. "She said that at a previous office when she told a doctor she had HIV, the doctor told her to leave [and that] she needs to go to a hospital."
Instead, Moy refers to the patients like members of her family. "When my patients have cancer or something and they're getting chemo, I visit them. I make sure my assistant calls and checks up on patients who are sick and have no family…I give them more than just care. I'm their social worker. I'm their psychologist. I'm their therapist. I'm their advocate. I'm their dentist."
Working as the Dental Director
Now as the Dental Director, Moy's duties have expanded to include handling the administrative duties of the clinic as well. "I'm not just an advocate for my patients," she said. "Now I'm into the planning and operations of our clinic and I'm trying to push for change and expand our clinic and what we can do to help patients with better services."
Some of her initiatives include making their future clinic a more handicap accessible facility, with features to accommodate patients who may be wheelchair bound or need other customizations. Moy also wants to help educate other dentists about working with HIV-positive patients. She is a preceptor in a program administered by New York State Health where dentists can receive continuing education credits by shadowing her and learning the clinic's best practices.            
Career Advice
Moy recommends that students attend a residency program, which she credits for helping her brush up on new skills and improving her speed. Moy stated that she went from having little experience in oral surgery to becoming highly proficient in performing extractions.
"You really do pick up a lot of skills that you would not have picked up in dental school," she said. "In dental school, I got a lot of removable prostho and crown and bridge. I didn't do many fillings. I didn't do many extractions. But in residency, I did a lot of extractions, a lot of fillings, and very little crown and bridge." Moy also found her locum tenens position beneficial because it gave her the opportunity to try a position without a long-term commitment, allowing her to better determine her interests. Ultimately, Moy encourages current dental students to remember that there are always opportunities to continue learning after dental school. She summarized, "You never know what life will bring, so just be open towards it."
-Marguerite M. Moore
If you are interested in nominating a recent TUSDM alum, please contact Marguerite Moore, Assistant Director of Student Affairs and Career Services, at marguerite.moore@tufts.edu. Visit the Dentist on Display archive.