DMD/Master of Science in Dental Research Program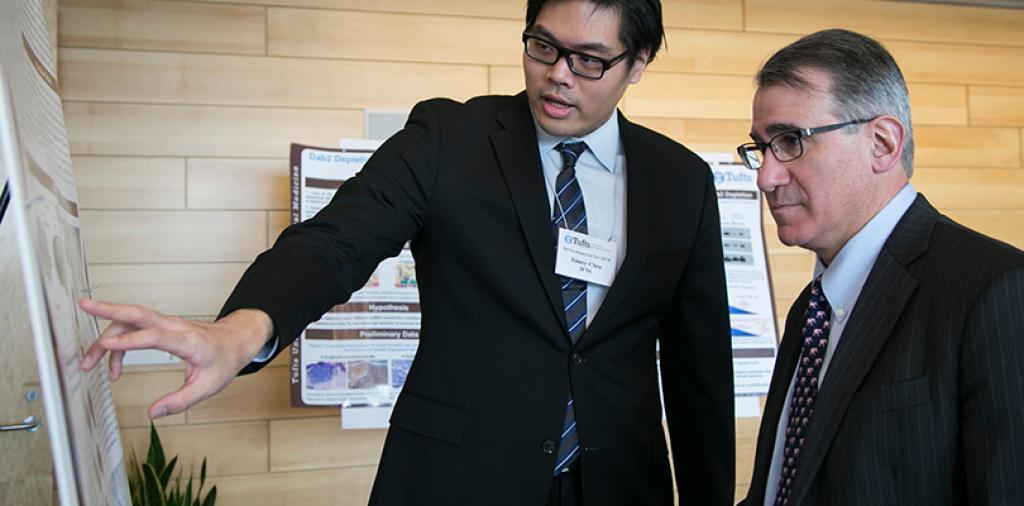 As the importance of evidenced-based dentistry grows, the need for dental students to think critically and use scientific support for decision-making also increases. The combined Doctor of Dental Medicine and Master of Science in Dental Research (DMD/MS) will allow a select group of DMD candidates the opportunity to enroll in TUSDM's Master of Science in Dental Research program, earning both degrees in five years. Aspiring dentists will be prepared to be better clinicians by taking part in the scientific process and bringing an evidence-based perspective to clinical practice, as well as improving their ability to work as part of an interdisciplinary research team addressing issues of behavioral, environmental, socioeconomic and genetic factors in human disease in general, and specifically in dental, oral and craniofacial diseases.
Dentists with advanced degrees are in great demand to serve as faculty at dental schools where, in addition to clinical responsibilities and teaching, they will have the ability to conduct research and mentor students.
Program and Courses
For the combined DMD/MS program, students must successfully complete all of the requirements for each degree.
In addition to the DMD didactic and clinical requirements, students in the combined program will need to earn an additional 40 credits. Of those, 18 will be earned by participating in research, 11 will be earned from the 7 core MS courses (listed below). The remaining 11 credits will be earned by either elective courses in the Advanced and Graduate Education curriculum, some of which are available online via TUSK, or certain DMD courses.
Core Courses
Introduction to Research
Scientific and Technical Writing
Critical Evaluation of Scientific Literature
Introduction of Biostatistics
Principles of Biostatistics
Epidemiology & Critical Thinking in the Practice of Dentistry
Biostatistics/Epidemiology II
Application Requirements
First year students in good standing at TUSDM with a minimum grade point average (GPA) of 3.0 (or 85%) are welcome to apply. A mentor and a research project must be identified before applying. Two letters of recommendation, one from the student's mentor, as well as a personal statement, are also required. Email denadmissions@tufts.edu to begin the application process.