Implant Dentistry Program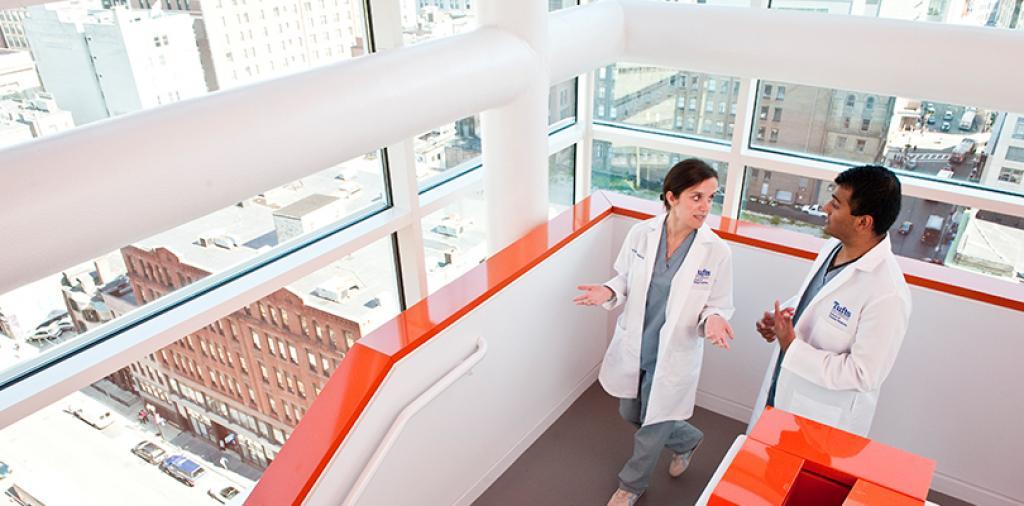 Tufts University School of Dental Medicine offers a new two-year Certificate program in Implant Dentistry. This advanced graduate level program will include all important aspects of implant dentistry: diagnosis and treatment planning, implant surgery, implant prosthodontics, long-term maintenance as well as prevention and management of implant complications. At the end of the two-year program, the resident is expected to be competent in comprehensive treatment planning, straightforward to advanced implant surgical procedures including localized bone augmentation, and the restoration as well as the after care of simple and advanced cases involving dental implants. The program is supported by relevant didactic courses, seminars, and workshops.
Program Details
First Year:
Become proficient in the areas of diagnosis and comprehensive treatment planning for patients, who are candidates for dental implants.
Develop proficiency in the surgical and restorative treatment phases of straightforward implant indications, including after care.
Become experienced with digital workflows in implant dentistry.
Develop familiarity with interdisciplinary treatment approaches for patients with advanced to complex indications.
Observe and assist during advanced and complex surgical procedures.
 Second-year:
Build on the experience gained in the first year of the residency.
Develop clinical proficiency in the surgical and restorative treatment phases of more advanced implant cases.
Become experienced in collaborating with specialty disciplines at TUSDM in the management of advanced or complex implant indications.
Gain experience in the diagnoses and treatment of complications with implants and implant supported prostheses including emergencies.
Master's of Science Program:
A Master of Science degree may be pursued in addition to the Certificate Program upon approval by the program director and the Graduate Studies Committee and is contingent upon the student's academic performance during the first year of study. Successful completion of a Certificate in Implant Dentistry plus a Master of Science degree will require a three-year commitment.
Required Advanced Graduate Level Courses:
Oral Medicine
Bone Biology
Postgraduate Head and Neck Anatomy
Oral Pathology
Implant Dentistry A-Z
Treatment Planning Seminars
Clinical Casework Review
Hands-On Training Sessions
Faculty
Program Director:
Dr. Ekaterini Antonellou (ekaterini.antonellou@tufts.edu)
Clinical Faculty:
Surgical: Designated Faculty, Department of Oral and Maxillofacial Surgery
Restorative: Designated Faculty, Department of Prosthodontics
Advisors:
Chairs of the Departments of Oral and Maxillofacial Surgery, Periodontology, and Prosthodontics
Tuition
Implant Dentistry Program
First Year
Second Year

Third Year

(only if completing Master's as well)

Certificate Tuition*
$94,112
$94,112
$94,112
Master's Tuition (if applicable)*
$23,528
$23,528
$23,528
Sterilization Charge
$3,340
$3,340
$3,340
Technology Fee
$380
$380
$380
Activity Fee
$136
$136
$136
Health Administrative Fee
$250
$250
$250
Disability Insurance Fee
$77
$51
$51
Clinic Gown Fee
$1,920
$1,920
$1,920
Total Billed Costs
$100,215 (plus $23,528 if completing Master's as well)
$100,189 (plus $23,528 if completing Master's as well)
$123,717
Living Expenses
$34,800
$34,800
$34,800
Total Cost of Education*
$135,015 (plus $23,528 if completing Master's as well)
$134,989 (plus $23,528 if completing Master's as well)
$158,517
*  Students enrolled in Implant Certificate only program are enrolled for 2 years; Students enrolled in Joint Implant Certificate and Master's Program are enrolled for 3 years and are charged certificate tuition plus the Master's surcharge.
NOTE:  Students must have health insurance by enrolling in the school's plan or another comparable plan.  Students may also be responsible for cost pertaining to course materials and equipment as deemed appropriate by the Program Director.