Implant Dentistry One-Year Fellowship Program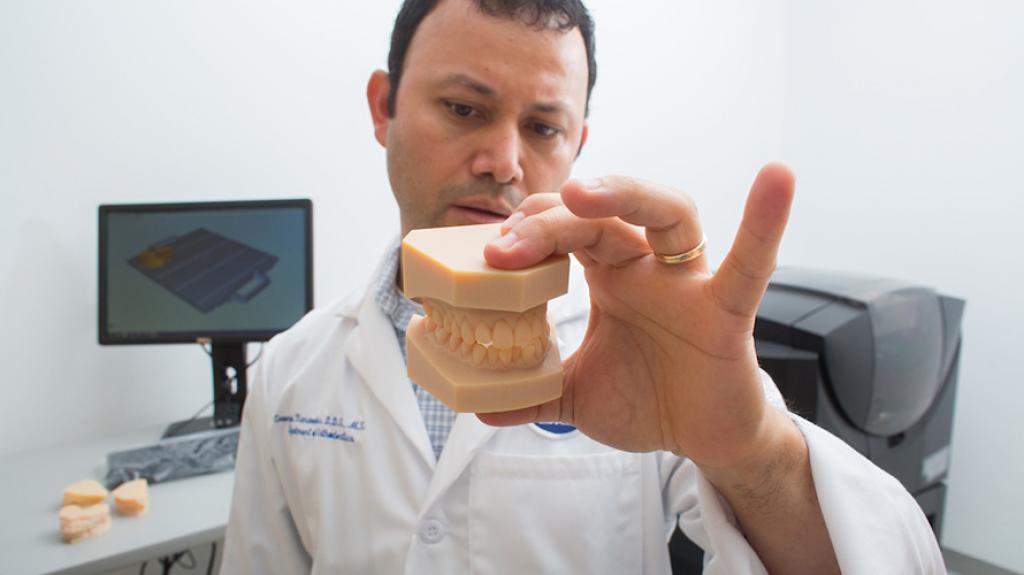 Tufts University School of Dental Medicine offers a one-year Fellowship program in Implant Dentistry. This advanced graduate level program will include all important aspects of implant dentistry: diagnosis and treatment planning, surgical and final restorative stages of implant dentistry, understanding of surgical therapies and implant placement in selected cases, understanding of prosthetic therapies, long-term maintenance, and prevention and management of implant complications. The program is supported by relevant didactic courses, seminars, and workshops. It is one year long and runs from July 1 to June 30 of the following year.
Course of Study
During their curriculum, fellows will be trained to:
Diagnose cases;
Identify complex cases that must be referred to other specialty departments;
Perform site preparation surgery and implant fixture placement in simple and advanced classification cases;
Perform temporization procedures;
Fabricate single implant restorations, multiple unit fixed restorations, fixed detachable restorations, and an implant supported overdenture;
Diagnose the health of an existing implant fixture and understand causes and treatment of implant failure.
If the fellow has completed any of the following academic requirements during their previous residency, and the Office of Academic Affairs can verify their completion, the fellow can be excused for attending these courses. If the fellow still wishes to attend class, they may do so but do not have to take any exams or be graded.
Biomedical Courses: (required)
Microbiology
Immunology
Principles and Methods of Epidemiology
Head and Neck Anatomy for Prosthodontics
Bone Biology
Oral and Maxillofacial Radiology
Management of the Medically Compromised Dental Patient
Oral and Maxillofacial Pathology
Topics in Molecular and Cell Biology
Overview of Temporomandibular Disorders
Dental Pharmacology
Topics in Molecular and Cell Biology
Literature Reviews:
Classical Implant Literature Review
Contemporary Implant Literature Review
Implant Prosthodontics Courses Interdepartmental: (required)
Implant Dentistry Lecture Course
Interdisciplinary Treatment Planning
Complex Case Manager Seminars
Prosthodontic Treatment Planning Seminar
Preclinical Esthetic and Operative Dentistry
Implant Restoration Laboratory
CAD Design Laboratory (Nobel Guide)
Oral and Maxillofacial Surgery Lecture Series
Periodontology Courses:
Classical Periodontal Literature Review
Case-Based Surgical Seminar
Implant Surgery Courses:
Management of Surgical Emergency Procedures
Implant Surgery Laboratory
Operating Room Protocol
Department Courses and Conferences:
Implant Treatment Planning Seminar – Resident Presentations
Oral and Maxillofacial Surgery/Implant Treatment Planning Seminars
Tuition
| Implant Dentistry One-Year Fellowship Program | One-Year Program |
| --- | --- |
| Certificate Tuition | $94,112 |
| Sterilization Charge | $3,340 |
| Technology Fee | $380 |
| Activity Fee | $136 |
| Health Administrative Fee | $250 |
| Disability Insurance Fee | $77 |
| Clinic Gown Fee | $1,920 |
| Total Billed Costs | $100,215 |
| Living Expenses | $34,800 |
| Total Cost of Education* | $135,015 |
NOTE:  Students must have health insurance by enrolling in the school's plan or another comparable plan.  Students may also be responsible for cost pertaining to course materials and equipment as deemed appropriate by the Program Director.