Advanced Education in Esthetics and Operative (AEEOD) Dentistry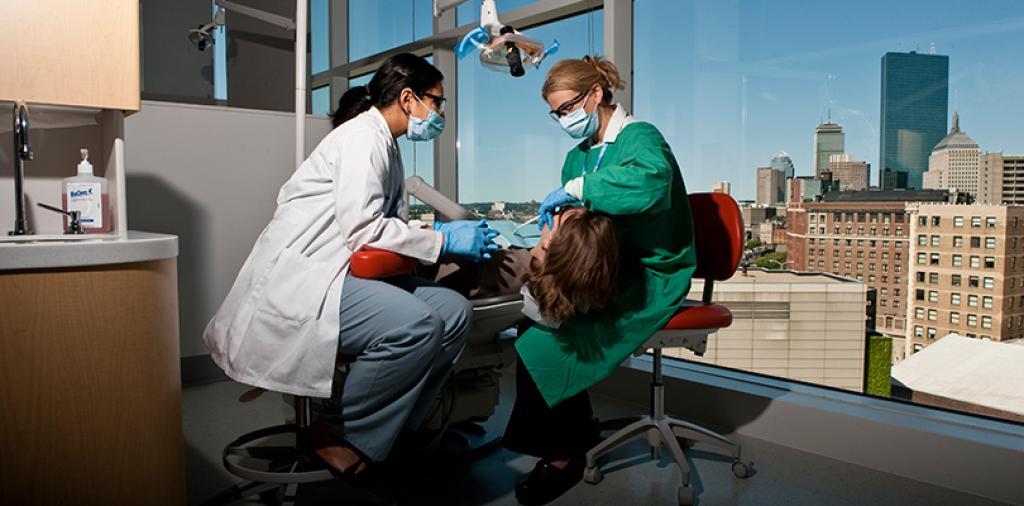 The Advanced Education in Esthetics and Operative Dentistry (AEEOD) Certificate Program allows students to have direct interaction with most dental specialties, including Prosthodontics, Periodontics, Endodontics and Orthodontics. Therefore, it contributes in providing a multidisciplinary approach in the diagnosis and management of patients' esthetics, restorative and functional needs.
During their clinical curriculum, students are trained to provide comprehensive dental care, utilizing the latest technologies available to dental professionals. Located in state-of the-art facilities and using all aspects of digital dentistry from intraoral scanners, 3D printers, digitally guided implant planning to digital design and milled restorations.
Students' achievements include simple to more extensive smile reconstruction including teeth whitening, direct composite restorations, porcelain laminate veneers, ceramic crowns, computer-aided design/computer-aided manufacturing (CAD/CAM) restorations, and implant-supported crowns. The program exposes students to all specialty phases of dentistry and medicine as they apply to esthetics.
During their didactic curriculum, students attend prosthodontics-oriented classes such as Digital Dentistry, Biomaterials, Temporomandibular Joint Disorders (TMJ), and Implantology. Students also attend Esthetics-oriented classes such as Advanced Operative and Esthetic Dentistry Treatment Planning Course, Comprehensive Evidence-Based Esthetic Dentistry Literature Review, and multi-disciplinary oriented lectures.
Students learn treatment planning and record-keeping techniques that they apply to each patient. They are required to present such information in roundtable discussions with faculty. The process enables students to develop effective management and administrative skills.
Students also teach undergraduate students in Operative Dentistry. First year residents attend preclinical lectures and assist undergraduate students in their operative training. Second year residents provide clinical supervision in Operative Dentistry to undergraduate students in Tufts pre-doctoral clinic.
The two-year AEEOD Certificate Program starts on July 1 and ends June 30 of the second year of the program. The first three months of the program are dedicated to pre-clinical training so that students understand the techniques and treatment procedures during their clinical curriculum.
A Master of Science degree may be combined with the Certificate program upon approval by the program director. Successful completion of a combined Advanced Education-Master of Science program is expected to require a minimum of 36 months (specific conditions apply).
Course of Study
Some of the courses including in the AEEOD curriculum are the following:
Advanced Education Courses
Biostatistics

Oral & Maxillofacial Radiology

Management of the Medically Compromised Dental Patient

Dental Pharmacology

Complex Case Management Seminar

Overview of TMD & Orofacial Pain
Departmental Courses
Advanced Esthetic Treatment Planning Seminar

Comprehensive Literature Review

Advanced Operative and Esthetic Dentistry Course

Preclinical Operative and Esthetic Dentistry Course

Digital Dentistry

Advanced Prosthodontic Treatment Planning Seminar

Head & Neck Anatomy for Prosthodontics

Biomaterials
Faculty
Dr. John Da Silva, 

Associate Dean of Clinical Affairs and Interim Chair

Dr. Aikaterini Papathanasiou, Associate Professor & Graduate AEEOD Program Director

Dr. Maria Avrampou, Assistant Professor

Dr. Gustavo Ernesto Mahn Arteaga, Assistant Professor

Dr. Olympia Karacosta, Assistant Professor

Dr. Panagiotis Papaspyridakos, Associate Professor

Dr. Carlos Kose, Associate Professor
Visiting/Volunteer AEEOD Faculty:
Dr. Lisa Emerzian, Clinical Associate

Dr. Ahwed Maawadh, Clinical Associate

Dr. William Papadopoulos, Clinical Associate

Dr. Roya Zandparsa, Clinical Associate
Tuition
Esthetics and Operative Dentistry
First Year
Second Year

Third Year

(only if completing Master's as well)

Certificate Tuition*
$94,112
$94,112
$94,112
Master's Tuition (if applicable)*
$23,528
$23,528
$23,528
Sterilization Charge
$3,340
$3,340
$3,340
Technology Fee
$380
$380
$380
Activity Fee
$136
$136
$136
Health Administrative Fee
$250
$250
$250
Disability Insurance Fee
$77
$51
$51
Clinic Gown Fee
$1,920
$1,920
$1,920
Total Billed Costs
$100,215 (plus $23,528 if completing Master's as well)
$100,189 (plus $23,528 if completing Master's as well)
$123,717
Living Expenses
$34,800
$34,800
$34,800
Total Cost of Education*
$135,015 (plus $23,528 if completing Master's as well)
$134,989 (plus $23,528 if completing Master's as well)
$158,517
*  Students enrolled in Esthetics and Operative Certificate only program are enrolled for 2 years; Students enrolled in Joint Esthetics and Operative Certificate and Master's Program are enrolled for 3 years and are charged certificate tuition plus the Master's surcharge.
NOTE:  Students must have health insurance by enrolling in the school's plan or another comparable plan.  Students may also be responsible for cost pertaining to course materials and equipment as deemed appropriate by the Program Director.