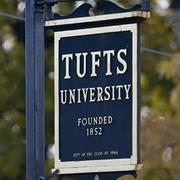 Education
D.M.D., Tufts University School of Dental Medicine, United States, 2014
Bachelor of Dental Surgery, Dayananda Sagar College of Dental Science, Rajiv Gandhi University, India, 2006
Biography
Dr. Shuchi Dhadwal joined TUSDM'S Department of Diagnostics Sciences as an Assistant Professor in 2010. She was appointed to be the Interim Program Director for the Craniofacial Pain Center in 2013, and then promoted to Director of the Center in 2016.

Dr. Dhadwal holds a Doctorate in Dental Medicine from Tufts School of Dental Medicine and a Bachelor of Dental Surgery (B.D.S) from Rajiv Gandhi University in Bangalore, India. She attended two post-doctoral programs to further develop her skills including the Craniofacial Post-Doctoral Program at TUSDM and a Post-Doctoral Program in Temporomandibular Joint Disorders at the Eastman Dental Center with University of Rochester in New York. She is a member of the American Academy of Orofacial Pain and a Diplomate of the American Board of Orofacial Pain.

Her clinical and research interests include Tempormandibular joint disorders, chronic facial pain, Myofascial pain and Neuropathic pain.