Advanced Education in Esthetics and Operative (AEEOD) Dentistry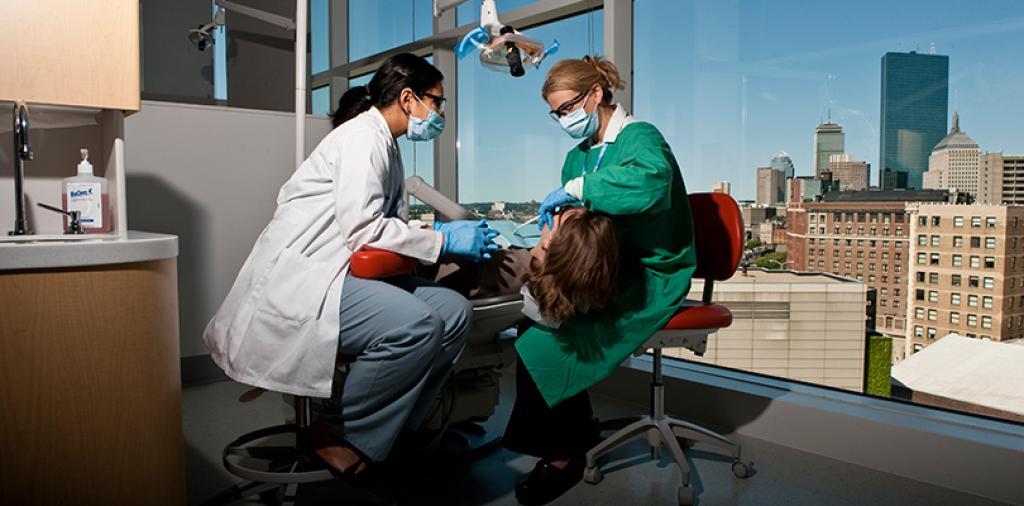 Because of its clinic location, the Advanced Education in Esthetics and Operative Dentistry (AEEOD) Certificate Program allows students to have direct interaction with most dental specialties, including Prosthodontics, Periodontics, Endodontics and Orthodontics. Therefore, it contributes in providing a multidisciplinary approach in the diagnosis and management of patients' esthetics and functional needs.
During their clinical curriculum, students are trained to provide comprehensive dental care, utilizing the latest technologies available to dental professionals. Students' achievements include simple to more extensive smile reconstruction including teeth whitening, direct composite restorations, porcelain laminate veneers, all-ceramic and porcelain-fused-to-metal (PFM) crowns, computer-aided design/computer-aided manufacturing (CAD/CAM) restorations, and implant-supported crowns. The program exposes students to all specialty phases of dentistry and medicine as they apply to esthetics.
During their didactic curriculum, students attend prosthodontics-oriented classes such as Prosthodontics Treatment Planning Seminar, Biomaterials, Temporomandibular Joint Disorders (TMJ) and Occlusion. Students also attend Esthetics-oriented classes such as Advanced Operative and Esthetic Dentistry Course, and Comprehensive Evidence-Based Esthetic Dentistry Literature Review, and multi-disciplinary oriented lectures including Advanced Esthetic Treatment Planning Seminars and Comprehensive Evidence-Based Perio-Implant Literature Review.
Students learn treatment planning and record-keeping techniques that they apply to each patient. They are required to present such information in roundtable discussions with faculty. The process enables students to develop effective management and administrative skills.
Students also teach undergraduate students in Operative Dentistry. First year residents attend preclinical lectures and assist undergraduate students in their operative training. Second year residents provide clinical supervision in Operative Dentistry to undergraduate students in Tufts pre-doctoral clinic.
The two-year AEEOD Certificate Program starts on July 1 and ends June 30 of the second year of the program. The first three months of the program are dedicated to pre-clinical training so that students understand the techniques and treatment procedures during their clinical curriculum.
A Master of Science degree may be combined with the Certificate program upon approval by the program director and the Graduate Studies Committee. Successful completion of a combined Advanced Education-Master of Science program is expected to require a minimum of 36 months (specific conditions apply).
Course of Study
Advanced Education Courses
Biostatistics
Oral & Maxillofacial Radiology
Management of the Medically Compromised Dental Patient
Dental Pharmacology
Interdisciplinary Treatment Planning
Complex Case Management Seminar
Overview of TMD & Orofacial Pain
Departmental Courses
Head & Neck Anatomy for Prosthodontics
Comprehensive Literature Review
Advanced Operative and Esthetic Dentistry Course
Advanced Esthetic Clinic
Preclinical Operative and Esthetic Dentistry Course
Operative Course
Advanced Esthetic Treatment Planning Seminar
Prosthodontics Management through Diagnostic Wax-up
Advanced Prosthodontic treatment Planning Seminar
Integration of Esthetic Dentistry and Prosthodontics
Biomaterials
Practice management in Prosthodontics
Faculty
Dr. Hans-Peter Weber, Professor & Department Chair
Dr. Aikaterini Papathanasiou, Assistant Professor & Program Director
Dr. Ala Ali, Assistant Professor
Dr. Stephany Cordero, Instructor
Dr. Khaled El Rafie, Assistant Professor
Dr. Olympia Karacosta, Assistant Professor
Dr. Panagiotis Papaspyridakos, Assistant Professor
Dr. Guilherme Valverde, Assistant Professor
Dr. Roya Zandparsa, Clinical Professor
Dr. Aikaterini Kostagianni, Instructor 
Visiting/Volunteer AEEOD Faculty:
Dr. Samer George Khayat, Assistant Clinical Professor
Dr. Gregory  Kosmidis, Clinical Instructor
Dr. Waad Khayat, Clinical Instructor
Dr. William Papadopoulos, Assistant Clinical Professor
Dr. Najla Chebib, Adjunct Assistant Professor
Dr. Lisa Emerzian, Clinical Instructor
Dr. Ahwed Maawadh, Clinical Instructor