Dental International Student Program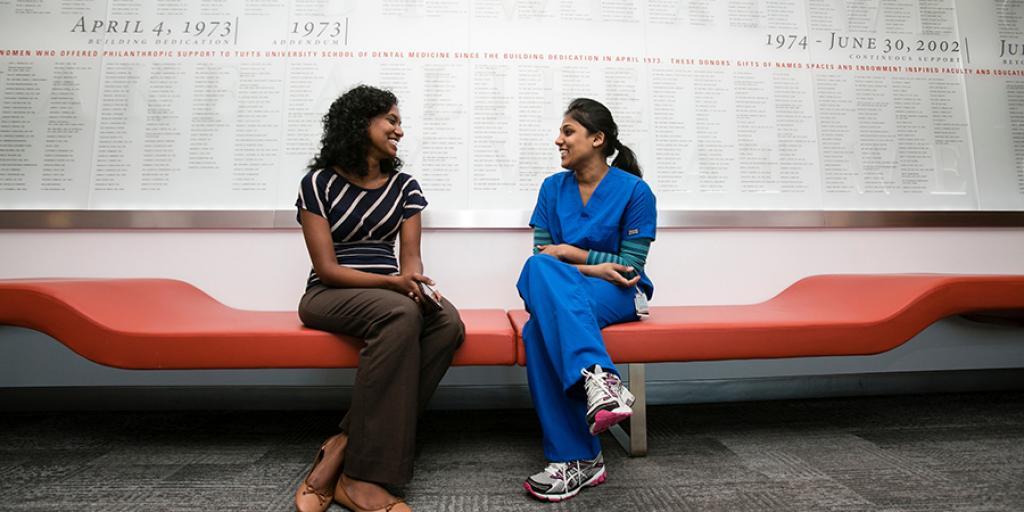 The Dental International Student (DIS) Program at Tufts University School of Dental Medicine began in 1956 to provide foreign-trained dentists with the education and experience required to practice dentistry in America. Beginning in January, the program consists of twenty-nine months of coursework and clinical experience, including innovative courses in implantology and geriatric dentistry. Upon completion of the program students receive a DMD degree and are eligible for licensure to practice dentistry in the United States of America.
Curriculum
The DMD curriculum at Tufts is designed to educate dentists who are prepared to practice in a constantly evolving profession. Thirty applications are accepted to the program each year. Students in the International Program bring with them their prior experience working as dentists in other countries and after an eight-month intensive introduction to U.S. dentistry practice, join their third-year colleagues in the DMD program to work with patients in the school's oral health clinics and numerous community service programs. Dental International students participate in nearly all phases of the third and fourth year dental curriculum, including geriatric dentistry, implantology, craniomandibular and TMD pain management, nutrition and preventative dentistry, and dentistry for the handicapped. The program focuses on collaborative care and inter-professional education to develop teamwork competencies that are effective in health care deliver and research settings. 
Exemptions: Students will be exempt from taking courses in the subjects covered by the National Dental Board Examination, Part I, which are: Gross Anatomy and Neuroanatomy; Embryology; Biochemistry; Physiology; Microbiology and Cariology; General Pathology and Systems Pathology; Immunology; Oral Histology; and Dental Anatomy. Exemptions may be granted for subjects tested on the National Board Dental Examination, Part II.
Courses
Program: 29 months/2.5 years
Months 1-7: Preclinical Sciences
Complete Dentures, Fixed Prosthodontics, Endodontics, Pediatric Dentistry, Operative Dentistry, Orthodontics, Removable Partial Dentures, Intro to Dental Clinic and Axium, Medicine III Seminar, Oral Pathology, Dental Pharmacology, Implant Dentistry, Oral & Maxillofacial Surgery, Radiology Workshop
Months 8-12: Patient Clinic
Emergency Rotations, Practice Management, Radiology Rotation, Periodontology II, Oral Surgery II, III, IV with Rotations, Ethics, Prosthodontic/Operative, Occlusion, Geriatric
Months 13-29: Patient Clinic Rotations
Pediatric Rotations, Special Care Rotations, Public Health Rotations, Emergency Rotations, Oral Surgery 
Graduation Dates and Requirements
Students are expected to attend all lectures, perform all required clinical work, and pass all written, oral, and practical examinations. It is mandatory that students maintain high ethical standards and pay all bills by the due dates. Failure to do so constitutes grounds for dismissal from the program. Before Tufts grants the D.M.D. degree, the Executive Faculty of the School of Dental Medicine recommends students for the degree to the Trustees of Tufts College, who have the sole right to award academic degrees. Graduation from TUSDM leads to a Doctor of Dental Medicine degree. Graduates are then are eligible to take the clinical board examinations given across the country required for licensure in any state in the U.S. 
Honors and Awards
Academic Honors
International students who place in the top 10% of the class and whose professionalism and character are judged exemplary by the school's Executive Faculty will be eligible for honors.
Summa Cum Laude: Overall average of 93 with no grade less than 80.
Magna Cum Laude: Overall average of 91 with no grade less than 77.
Cum Laude: Overall average of 87 with no grade less than 72.
Awards
The following awards are presented to graduating Dental International students who have demonstrated outstanding accomplishments as Tufts dental students:
International College of Dentists
Omicron Kappa Upsilon (OKU) Award